The Port Authority of New York and New Jersey (PANYNJ) has released a report entitled 'Options for Mass Transit Solutions to LGA', which assesses how transport to and from LaGuardia Airport could be improved.
This report includes an extensive analysis of 14 different mass transit options that could help improve access to LaGuardia Airport.
Based on this analysis, the report recommends enhancing the existing MTA Q70 LaGuardia Link service and creating a new non-stop airport shuttle service to and from the end of the N/W subway line in Astoria.
MTA Q70 LaGuardia Link Service
The team recommends making substantial improvements to the existing MTA Q70 LaGuardia Link bus service connecting to Jackson Heights and Woodside.
This includes introducing transit signal priority on Roosevelt Ave and Broadway to improve reliability and shorten travel times, as well as constructing a mile-long dedicated bus lane on the shoulder of the northbound Brooklyn-Queens Expressway between Northern Blvd and Astoria.
The report suggests that frequency improvements for this service should also be made in response to increased demand.
In addition, the panel recommends building a new bus pick-up and drop-off area near Terminal C with direct, exclusive road access to avoid congestion.
Meanwhile, wayfinding and lighting improvements should be made at Jackson Heights-Roosevelt Av, and enhanced branding and signage should be introduced to promote the improved service.
Non-Stop Airport Shuttle to the N/W Subway Line
The report also recommends introducing a new non-stop shuttle service between the airport and the last stop on the N/W subway line at the Astoria-Ditmars Blvd station. This would serve all three terminals at LaGuardia Airport.
The new service would use fully electric buses to eliminate noise and emissions and would benefit from dedicated bus lanes and transit signal priority on 31st St. and 19th Ave.
Furthermore, the report finds that improved facilities should be built at Astoria-Ditmars Blvd station to provide ADA accessibility.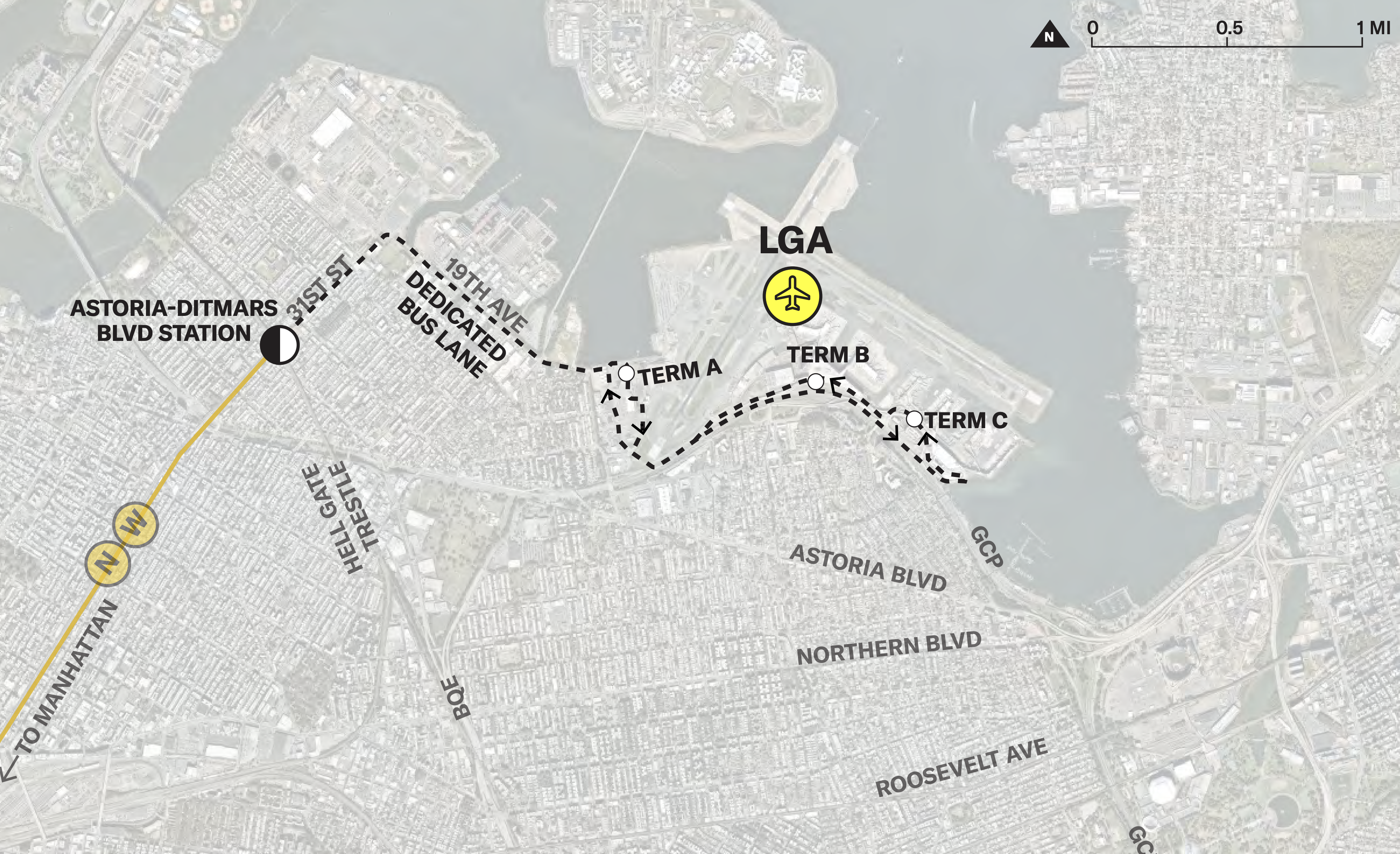 The analysis of these proposed transit options was carried out by a multi-disciplinary team of engineering, construction and transportation firms, including Betchel, WSP, Nelson, Foursquare ITP and Ramboll.
An independent panel was also established to oversee the study and make recommendations based on the analysis.
This team included Mike Brown, former Commissioner of Transport for London and former Managing Director of Heathrow Airport; Janette Sadik-Khan, Principal at Bloomberg Associates and former Commissioner of the NYC Department of Transportation; and Phillip A. Washington, CEO of Denver International Airport and former CEO of Los Angeles Metro.
The panel initially expressed a strong preference for establishing a direct subway connection as the most effective way to shift travellers from cars to mass transit. However, the report identified unresolved constructibility and cost challenges of building this extension, causing the panel to recommend a near-term focus on improving bus services.
This focus aims to provide better access to LaGuardia that can be delivered in less time and at a lower cost.
Indeed, the report estimated capital costs for the bus options at just under 500 million USD compared to estimates ranging 2.4 billion to 6.2 billion USD for the light rail options.