Why to Incorporate Independent Suspensions in ARFF Vehicle Design
A vehicle's suspension may often be overlooked or undervalued by the typical car shopper. But to those in the Aircraft Rescue and Firefighting (ARFF) industry, the suspension of a firefighting vehicle is a critical component that should be closely evaluated based on a fire department's needs.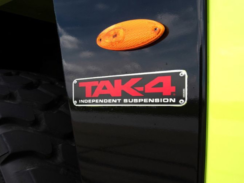 The patented Oshkosh® TAK-4® independent suspension is engineered as a standard feature on the Oshkosh Striker® ARFF. This technology increases the mobility of vehicles and ensures payload capacities of the Striker ARFF vehicle. TAK-4 independent suspension uses springs and independent control arms that contribute to improved handling and performance. Increased ride quality reduces stress on other components of the vehicle and makes equal use of each axle. Before we explain more about the benefits of TAK-4 independent suspension, let's review what makes up an ARFF vehicle suspension system.
What Is Independent Suspension?
Independent suspension is a type of suspension system that allows each wheel on the same axle to move vertically independently of the others, allowing for a smoother ride. While there are other types of suspension systems including leaf spring, rubber block, and air rides, independent suspension is the most common in ARFF vehicles because they are typically operated in areas where variations in terrain is an obstacle.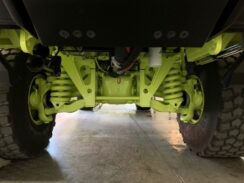 A common navigation challenge of ARFF vehicles is bump steer, which can occur when your vehicle does not have an independent suspension, causing the wheels to react to road conditions adversely, impacting steering. When one wheel hits a pothole, the other wheel reacts in a way that causes the steering angle to change. This presents a safety hazard, particularly when human instinct is to over correct. Worrying about how your vehicle might react to terrain causes emergency responders to slow down; ultimately increasing the amount of time it takes to respond to an incident.
Oshkosh vehicles equipped with TAK-4 independent suspension inherently will not experience bump steer meaning the driver does not feel any motion from the suspension moving in the steering wheel, allowing them to concentrate on the response at hand.
Why Is Independent Suspension a Key Factor in ARFF Vehicle Design?
With independent suspension, each wheel has its own shock absorber and spring, allowing each wheel to react to the unique road condition that wheel encounters.
Not only is an independent suspension safer and faster, but it also allows for a larger range of movement, which improves maneuverability.
Developed by Oshkosh, TAK-4 independent suspension has evolved into the gold standard of mobility for heavy-duty vehicles, equipment, and fire apparatus. It enhances vehicle mobility, off road speed, load carrying capacity, and ride quality while controlling life cycle costs.
Watch here to see how Oshkosh Airport Product's TAK-4 independent suspension eliminates bump steer and increases safety when operating on challenging terrains.
What Are the Unique Attributes of the TAK-4 Independent Suspension?
ARFF Vehicle Versatility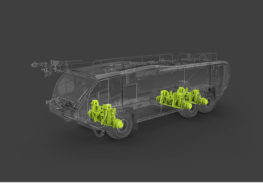 No matter the length or weight of your ARFF vehicle, TAK-4 independent suspension will be capable of carrying the load. TAK-4 independent suspension is a universal technology that works on lightweight and heavyweight vehicles. The suspension is scalable to vehicles of different sizes while maintaining the same function and reliability. Suspensions are rated up to 31,000 pounds for the Striker ARFF. Each axle on the Striker ARFF has different payload capacities that must be met, and TAK-4 suspension makes this possible while reducing strain on the vehicle. Additionally, the 6×6 Striker ARFF vehicle comes with optional mechanical rear steer on the third axle.
ARFF Vehicle Braking
Acceleration is key for ARFF vehicles, but braking capability is just as important. TAK-4 independent suspension also improves braking performance and shortens stopping distances on the Striker ARFF when compared to Striker ARFF's not equipped with this suspension. Starting and stopping effectively with no delays are two key performance characteristics for success in fighting fires. The Striker ARFF is equipped with either FMVSS 121 or ECE R13 certified brakes and comes with both disc and drum brake options.
TAK-4 Independent Suspension Offers a Unique Combination of ARFF Truck Features and Proven Performance
The TAK-4 independent suspension enhances vehicle mobility with improved driver feedback, high wheel articulation rates, and roll characteristics designed for the ARFF application. These characteristics aid the ARFF vehicle operator in navigating to and around a scene, both on and off road. Striker ARFF vehicles equipped with TAK-4 independent suspension have reduced stress on the axle and, therefore, increased mobility, which helps the vehicle exceed the NATO Lane Change Test. This tests the dynamic stability of the truck through motion changes as the vehicle drives in a straight line while avoiding obstacles. Learn more about ARFF vehicle testing here.
TAK-4 independent suspension is a state-of-the-art technology available on all Oshkosh Striker ARFF products. To learn more about this innovative technology, please contact us today.
This article was originally published by Oshkosh.