LAX Successfully Installs Steel Structure for First Automated People Mover Pedestrian Bridge
The bridge will connect the Terminal 4.5 vertical core to the future West Central Terminal Area People Mover station
Los Angeles World Airports (LAWA) has announced the successful placement of four steel trusses over World Way, kicking off construction of an elevated pedestrian walkway that will eventually connect Los Angeles International Airport's (LAX) Terminal 4 to the West Central Terminal Area (CTA) Automated People Mover (APM) station.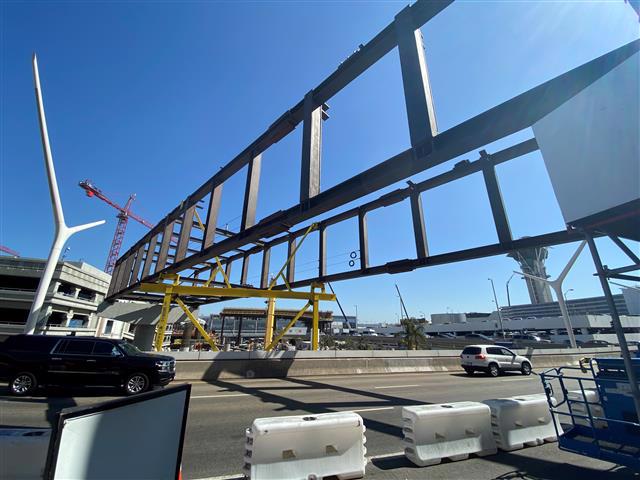 Over the course of four evenings, partially pre-fabricated steel trusses, ranging in weight from 60,000 to 100,000 pounds, were transported to the LAX terminal area and then assembled and lifted into place with a 350-ton crane. The segments were welded together while supported over the roadway by a shoring tower. The installation of floor and roof beams has now begun, which will complete the erection of structural steel for the pedestrian walkway. In total, six bridges will be installed over World Way.
"As we advance our modernization projects and take our place as a world-class airport, it is also important to honor LAX's rich architectural history through our design and construction, and our new bridges will do just that. The successful placement of the bridge structure was due to a highly-coordinated effort, and I share my thanks with our Development and Operations teams, airline stakeholders, the LINXS Constructors team, and Airport Police Division, including the Traffic and Security Officers, for ensuring a safe and efficient completion of this first of several bridge installations."
Due to specific engineering and aesthetic design requirements, an uncommon design called the Vierendeel Truss was selected. A Vierendeel Truss is constructed out of horizontal and vertical support elements, eliminating the need for diagonal supports. As a result, the walkway will feature a streamlined profile and clean lines consistent with the principles of mid-century modern design and LAX's architectural legacy, helping to maintain visual continuity at the airport.
Once all of the structural steel is in place, a suspended scaffolding system will be installed to facilitate placement of the concrete floor and the installation of metal panels and glazing. Composed of multiple sections, which can be raised and lowered as needed, the suspended scaffolding system eliminates the need for traditional scaffolding that would need to be staged in the roadway. By installing the suspended scaffolding in sections, work can progress on one section at a time, resulting in less impactful lane closures in the busy terminal area.
"The start of construction of this pedestrian walkway follows a tremendous amount of enabling work, planning and coordination. Having these steel trusses in place serves as a meaningful milestone for the APM project and a testament to the continued efforts of the APM team to bring the vision of a transformed LAX to fruition."
Click here to view an explainer video on constructing the pedestrian walkways over World Way. High-resolution photos are available upon request.
The centerpiece of LAWA's Landside Access Modernization Program (LAMP), the APM is a 2.25-mile electric train system that will transport travelers in and out of the CTA, connecting them to new off-site parking facilities, regional light rail transportation and the Consolidated Rent-A-Car facility. The APM project is a critical investment into the infrastructure of Los Angeles as the city prepares to host the 2028 Olympic Games. The APM is expected to relieve congestion within the CTA and in turn the surrounding thoroughfares, thereby reducing emissions and vehicle miles traveled.
To learn more about LAX's modernization, visit FlyLAX.com/ConnectingLAX.
This article was originally published by Los Angeles World Airports.