LAX Prepares for Labor Day Weekend, Launches 'NomNom' Food Delivery Robot
The Labor Day holiday weekend marks the unofficial end of the busy summer travel season at Los Angeles International Airport (LAX), and is expected to be about twice as busy as last year with more people returning to the skies. Because of the potentially busier weekend, it's important for travelers to plan ahead.
During the Labor Day weekend, Friday, Sept. 3, through Tuesday, Sept. 7, the airlines have scheduled 3,289 flights from LAX, about double the number of flights compared to last year and 78% compared to the holiday weekend in 2019. Throughout the month of September, the airlines are planning to operate about 19,600 flights from LAX, which is about 77% of the number of flights compared to the same time in 2019.
"Even though we are not back to pre-pandemic numbers, we are expecting twice as many guests at LAX this Labor Day weekend than we saw last year, which means that travelers should plan ahead for traffic and a busy airport. We are ready to welcome our guests to safe and clean facilities, and in turn we ask that they make sure to wear their masks and practice kindness and patience with one another."
Introducing NomNom at LAX
LAX this week is launching a robotic ambassador for its popular online food and beverage ordering service, www.LAXOrderNow.com.
In partnership with Unibail-Rodamco-Westfield (URW), the LAX Order Now delivery service will begin using help, in a pilot program, from a two-wheeled, semi-autonomous robot helper the airport has affectionately named NomNom.
NomNom is a cargo robot that will carry up to 40 pounds of food at a time as it follows behind delivery staff from AtYourGate, which delivers food ordered via LAX Order Now. The robot can move at speeds up to 6 mph and uses a series of cameras and sensors to recognize and follow its handler throughout the airport.
The robot is another way LAX is tapping into new technology and innovations to support the overall passenger experience.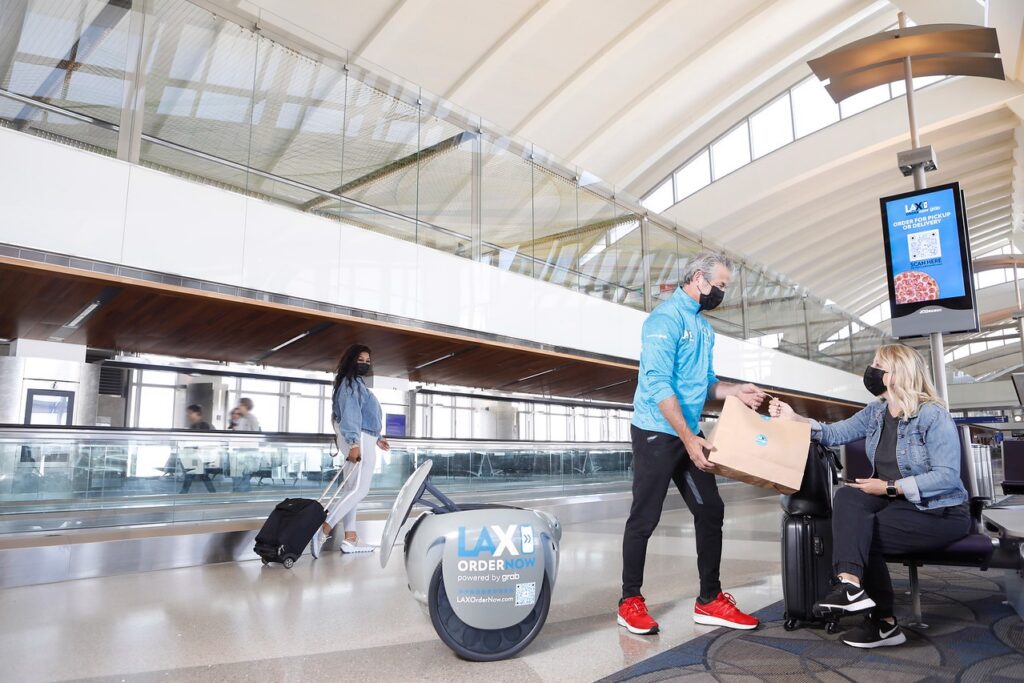 LAX Order Now offers contactless order pickup from LAX restaurants, with optional delivery available directly to the gate areas in select terminals. Guests can scan QR codes throughout the terminals or visit LAXOrderNow.com to browse menus, place an order and pay.
When checking out, guests in eligible terminals who want delivery will select that option at checkout for an additional small delivery fee. Guests will be notified on their mobile device when orders are on their way and when they arrive in the designated gate area, and each participating restaurant will provide an estimated delivery time to help ensure food arrives prior to departing.
At Your Gate delivery team members, and NomNom, wear branding to be identified easily and connect quickly with guests who place orders.
To celebrate the Labor Day weekend, LAX guests may use the coupon code LAXNomNom for 25% off their online food orders through Sept. 12.
Click here for a video of NomNom in action at LAX.
This article was originally published by Los Angeles World Airports.