The Airport Operations Center is comprised of the new Command Center, Badging Office and Training Room. From the Command Center, the Operations Department oversees airfield and facility activity to ensure the safety of all cargo and airline partners as well as the traveling public. Through five workstations and three private offices, staff closely monitor flight and parking information, weather, terminal activity, property work orders, access control systems and airport radio communications including Public Safety, Operations and Maintenance as well as aircraft radio traffic.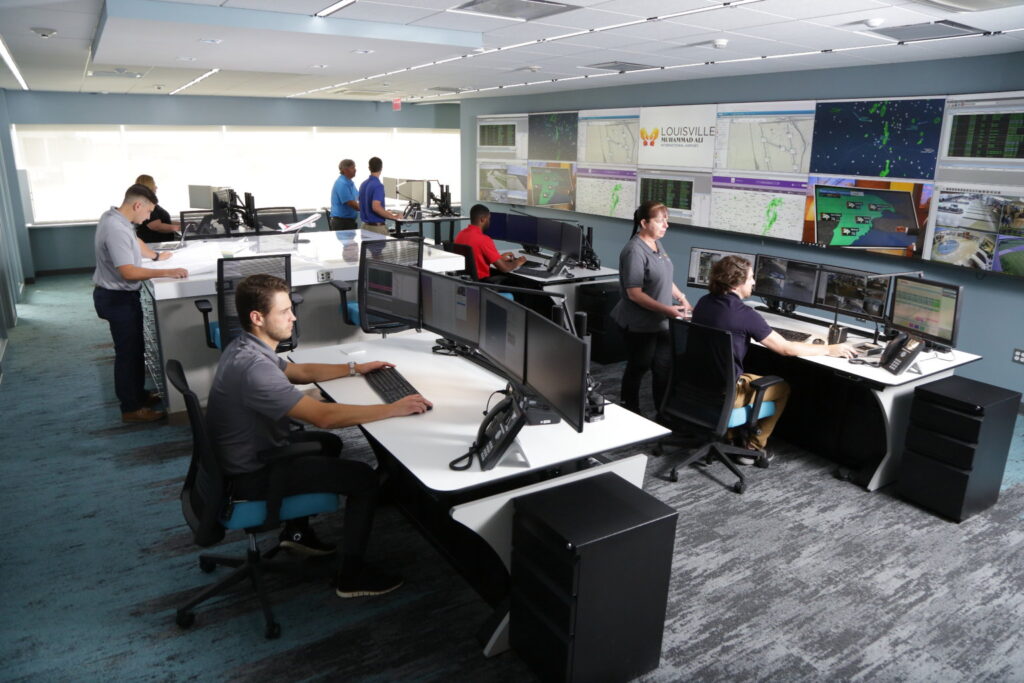 It features a 14-screen video wall spanning nearly 28 feet that is fully customizable to offer a variety of configurations based on need. The centralized Building Automation System is also housed here, which monitors all HVAC, lighting, fire alarm, fire suppression and plumbing systems. If any issue arises, staff are automatically notified immediately for a quicker response time to correct any situation.
A tactical island is situated in the heart of the Command Center, with space for a minimum of 10 to comfortably gather and view various airport maps and diagrams through a clear surface. This dedicated area can be used to plan projects, discuss construction needs and work through any potential scenarios across the property. The new Badging Office offers three customer service bays while the adjunct Training Room has 10 individual workstations for airport personnel to learn about working in an airport environment.