Lindner Middle East supplied new metal ceiling systems in terminals 1 and 2 for the renovation of the King Khalid International Airport in Riyadh, Kingdom of Saudi Arabia.
King Khalid Airport opened in 1983 and is the second largest airport in Saudi Arabia with 20 million passengers annually. The airport is located 35 kilometres north of Riyadh and is the main air access in the country. Since the renovation takes place during operation, the work was divided into different phases, which are all to be completed before the G20 summit to be held on 21st Nov 2020 in Riyadh.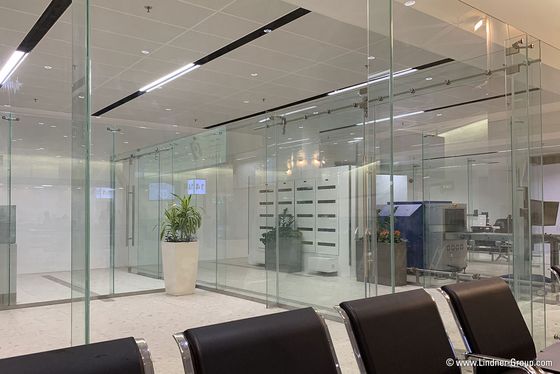 Lindner delivered a total of 8,000 m² of post cap ceilings type LMD B-100. The powder-coated, pre-galvanized metal ceiling elements in RAL 9010 are interrupted by black, 150 mm wide and 180 mm deep steel profiles which accommodate various building installations or lights. In addition to a new smart appearance and building-technical equipment, the perforated metal ceilings also provide improved acoustics thanks to the acoustic fabric and mineral wool inserts (planned NRC value = 0.95) and meet the corresponding fire protection requirements for airport buildings. The linear or radiating arrangement enables easy adaptation to the shape of the building. Additionally, partition systems can be easily attached to the striking profiles.
For King Khalid Airport in Riyadh, the ceiling design including the manufacturing drawings was individually created by the CAD team of Lindner Middle East.
For more information click here.