Round, Square, and Recently Also as a Baffle: MUTE+ Ceiling Absorbers
For some time already, MUTE+ sound absorbers have been a popular solution for the acoustic optimisation of interiors. To extend the design options, the ceiling absorbers are now also available as baffle ceilings.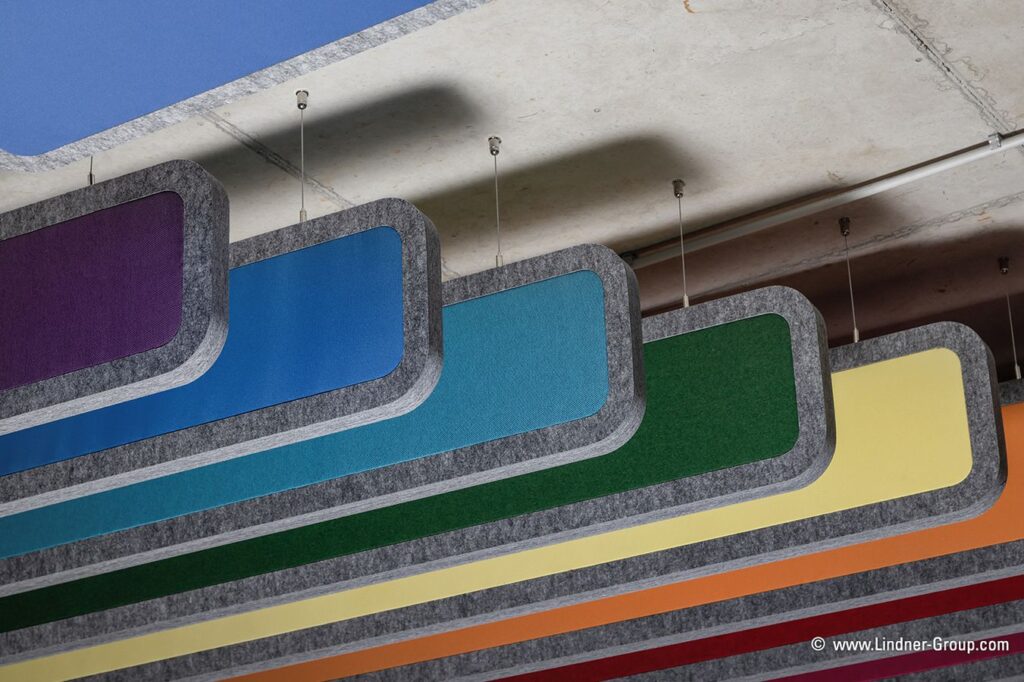 For more Quality of Life and Work
Anyone who works in an open-plan office, travels through a busy airport, sits in a classroom, attends large events or is affected by other noise traps knows the importance of pleasant acoustics for well-being and performance. A constant noise level can lead to inner stress and psychological strain, even diseases – yet short interruptions and disturbing noises are enough to reduce the ability to concentrate. Nevertheless, it is often not that difficult to avoid noise, increase speech intelligibility and create a pleasant atmosphere.
Acoustics and Aesthetics Combined
The MUTE+ sound absorbers start at this point and provide optimal sound protection by absorbing sound and eliminating acoustic disturbing factors. The effectiveness has been confirmed by an accredited laboratory. For an optimal learning and working environment, however, not only the acoustics play a major role, but also the appearance contributes to the well-being: The MUTE+ sound absorbers are available in different variations, for ceiling and wall – two-coloured or single-coloured, round or square, with or without a frame and in a wide variety of colours. Thus, the acoustic solutions fit ideally into all room environments and set individual accents for every taste. All models can also be retrofitted. It goes without saying that Lindner pays attention to the sustainable and healthy composition of the products: The absorbers are free of mineral fibres, allergy-friendly, recyclable and tested for harmful substances according to Oeko-Tex® Standard 100. For flexible use, all MUTE+ models are also very easy to install and can be dismantled again without tools.
Same Properties – New Design
The high demand proves the urgency of such soundproofing solutions. In order to meet the design requirements of customers even better, the Lindner Group has expanded the portfolio: Until now, the MUTE+ BOARD and MUTE+ FRAME ceiling absorbers were only available in square and round versions. In addition, the ceiling absorbers are now available as baffles – either as sound absorbers made of polyester in the board version or with a fabric cover and frame in the frame version. The baffles are suspended vertically from the raw ceiling. Depending on the requirements, a design as a single baffle with a length of up to 3,000 mm or as a connected version for a continuous baffle line is possible. Of course, the acoustic properties as well as the design options and composition remain the same. The MUTE+ FRAME B40 model in particular shines with extraordinary design freedom: The extensive colour palette allows the ceiling absorber to be designed particularly individually.
This article was originally published by Lindner Group.