NFPA 414 Testing: How does Oshkosh Airport Products Test ARFF Trucks?
Oshkosh Airport Products conducts a series of tests to ensure the Oshkosh Striker® vehicles are manufactured to comply with NFPA 414 standards. NFPA 414 specifies ARFF vehicle requirements which lead to superior performance in any terrain and a timely, safe, and effective ARFF response. The Oshkosh Airport Products team executes and documents NFPA 414 testing requirements as required in all development phases to ensure safe and reliable vehicles. Read more to understand how we test the Striker ARFF:
30-Degree Side Slope Stability
Gradeability Test – 50 Percent Grade
Pump and Roll on a 40 Percent Grade
NATO Lane Change
Cornering Stability
J-Turn
Engine and Transmission Cooling
Prototype Testing
30-Degree Tilt Table
NFPA 414 requires fully-loaded ARFF vehicles to have a side slope performance of 30 degrees. This requirement ensures ARFF vehicles have a low center of gravity in order to get to the scene of an emergency quickly and efficiently.
ARFF Vehicles are tested on a tilt table that complies with SAE J2180.
Tilt table has high friction surface
Vehicle tires cannot contact the slip rails
Vehicle must be positioned square to the table
Vehicle is tilted in both directions
The vehicle must remain flat on the tilt table until inclined 30 degrees before the upper tires leave the surface of the tilt table. To the right is a photo of Appleton International Airport's Striker 4×4 with Snozzle® HRET completing a successful tilt table test.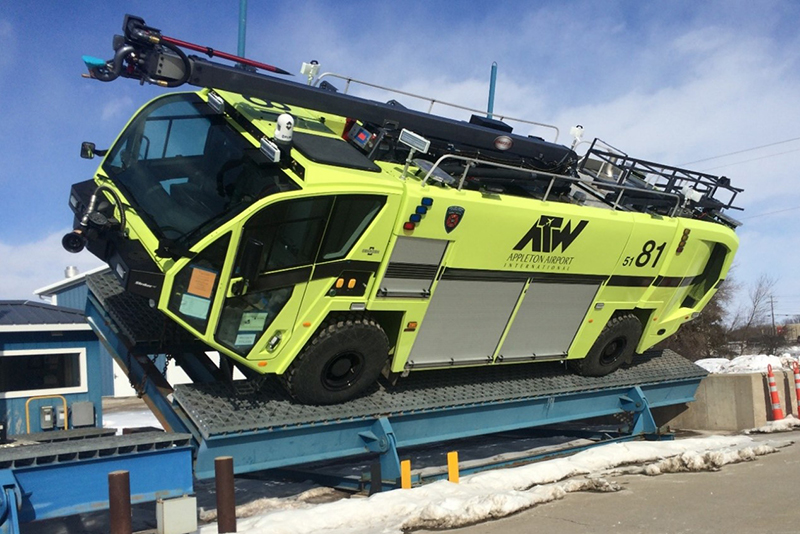 50% Grade / 40% Pump and Roll Grade
The driveline in an ARFF vehicle is required to climb slopes of 50 percent grade and pump and roll at 40 percent grade. Achieving this gradeability is difficult due to the weight of ARFF vehicles because they carry large amounts of firefighting agents. ARFF trucks typically have a high horsepower engine (typically 16-liter with 670 to 770 HP) and a transmission or gearbox with a very low gear ratio to complete the job successfully.
ARFF vehicles undergo rigorous testing to ensure these performance parameters. The vehicle can be tested using an actual grade or using the drawbar method. Oshkosh Airport Products loads the vehicle to its maximum capacity and uses the drawbar method to test the Striker ARFF. The test consists of the Striker ARFF pulling another vehicle with a load cell in the tow chain. The load cell needs to have an equivalent reading of the load that is placed on the truck at 50 percent grade. When completing the pump and roll test, water must be discharged while the Striker ARFF is performing the drawbar method to test the 40 percent pump and roll grade requirements.
NATO Lane Change
NATO Lane Change tests the dynamic stability of the truck through motion changes as the vehicle drives in a straight line while avoiding obstacles. The NATO Lane Change tests for lateral acceleration, which is the force that causes trucks to flip over. The Oshkosh Striker ARFF has a low center of gravity, allowing for a comfortable ride while exceeding NFPA 414's NATO lane change requirement.
To perform the NATO Lane Change, a test track is set up based on the dimensions of the vehicle and simulates lane changes in both directions. The truck must be fully-loaded and drive through the test course at a fixed speed of 35 mph (56 kph). The vehicle will pass if it does not knock any cones down and maintains speed.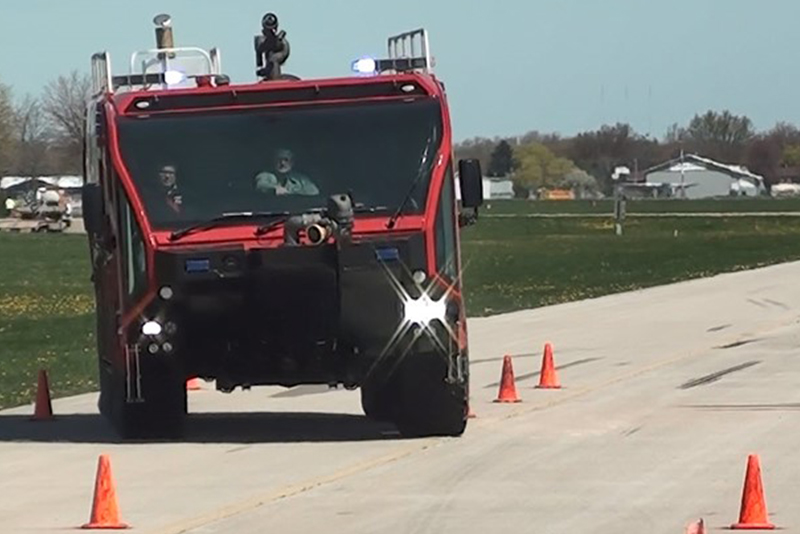 © Oshkosh Corporation
Turning Circle and J Turns
NFPA 414 tests ARFF vehicles for dynamic stability in a turn by performing turning circle and J-turn tests. To further improve turning circle performance, the Striker 6×6 can be configured with rear steer which also reduces tire wear.
These tests require the vehicle to maintain a determined speed during testing. The turning circle test requires the vehicle to drive in a 100-foot (30.5 m) circle, while simultaneously increasing the speed to 22 mph (35.5 kph) and holding the steering wheel in a fixed position. The J turn test requires ARFF vehicles to drive in a straight line and through a curve at a set speed of 30 mph (48 kph). These tests require the vehicle to be loaded to its gross vehicle weight rating (GVWR). This process is performed by placing the maximum weight on the truck's load rack and safety outriggers.
Engine and Transmission Cooling Test
NFPA 414 requires major components of the vehicle to be certified by the supplier. The two most complex items to certify are the engine and transmission. Engine and transmission suppliers have specific criteria which need to be followed for proper installation. The cooling system is crucial in the installation process because it regulates temperature in the engine and transmission, which prevents overheating and oil breakdown. Cooling systems typically consist of an air cooler, fan drive, flow source, and regulation control. Ambient air influences the cooling system design. According to NFPA 414, ARFF vehicles are required to operate from 32°F to 110°F (0 °C to 43.3°C). When designing these cooling systems, ARFF manufacturers must consider areas of the world where temperatures above this threshold occur. After the cooling system is completed, the engine manufacturer requires the truck to be tested.
A water brake dynameter is used to calculate an engine's production of torque and horsepower. Oshkosh Airport Products uses a water brake dynameter to load the engine and transmission to simulate the truck's operation. Since Oshkosh designs and tests numerous trucks each year, specialized testing has been developed. The data acquisition system which was internally developed can record about 90 channels of data. The data is used to certify the engine and transmission are operating properly. Coolant temperatures, oil temperatures, component temperatures, airflow rates, coolant flow, and other pertinent information are used to ensure all parameters are met and certify the installation.
Prototype vs. Operational Tests
Prototype and operational testing on ARFF trucks are required by NFPA. NFPA 414 specifies a test procedure required to ensure vehicles are tested to the same standards. Prototype tests only require testing and data recording of the first vehicle produced. Additional testing is only required by the manufacturer if a major change is introduced.
When a new ARFF vehicle is developed, NFPA requires the apparatus to perform various prototype vehicle tests to adhere to performance requirements. The tests identify vehicle performance, firefighting operations, and component certification. If a portion of an ARFF vehicle is redesigned, the OEM can retest that area of the vehicle. NFPA 414 specifies which area needs to be retested. For example, if a new engine is being used in a vehicle, the OEM will need to validate the driving performance tests but would not be required to retest the foam system.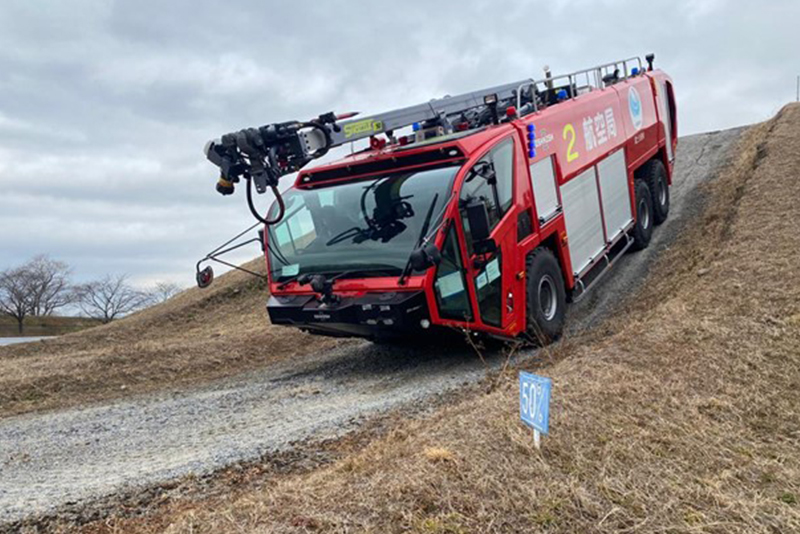 © Oshkosh Corporation
The second type of test specified by NFPA 414 is operational testing. These tests are required on every vehicle built and should be completed before the customer receives the vehicle. The operational tests verify some of the critical performance and functional features of an ARFF vehicle. Oshkosh Airport Products is committed to ensuring the best possible product through diligent and accurate testing.
Oshkosh Airport Products thoroughly inspects every Striker ARFF to ensure superior quality and compliance with NFPA regulations. For more information about the Striker ARFF and quality assurance, please contact us.
This article was originally published by Oshkosh Corporation.