Yellowknife Airport in Canada Takes Delivery of Oshkosh Striker 6×6 ARFF Vehicle
Oshkosh Airport Products, LLC, an Oshkosh Corporation (NYSE: OSK) Company, has announced that the Yellowknife Airport (YZF), located in Canada's Northwest Territories, has taken delivery of an Oshkosh Airport Products Striker 6×6 ARFF vehicle. Sold through dealer Commercial Emergency Equipment Co. and delivered in late December 2021, the new ARFF truck will support the completion of a fleet renewal for emergency services at the Yellowknife Airport. Post-delivery inspection and extensive training have begun in preparation for the vehicle to join front line service in early 2022.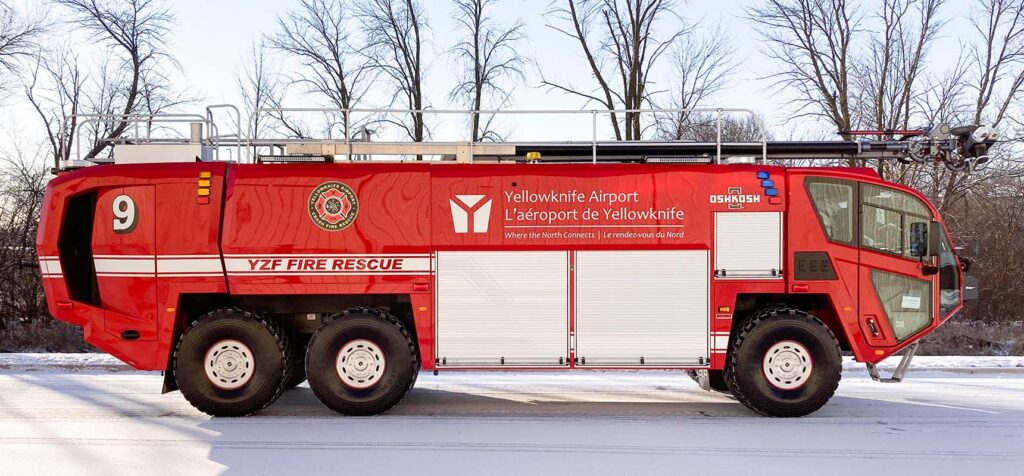 Randy Straker, regional airport manager with Yellowknife Airport, said:
"We looked at a lot of ARFF vehicles and contacted many airport fire service representatives, and those with Strikers all spoke highly of Oshkosh's reputation and quality. In our location, winter arrives in October and doesn't leave until mid-April, making a strong service partner essential to our operation. We've found Oshkosh Airport Products and Commercial fantastic in the way they take care of their customers, and we are confident we'll have access to the critical parts and service support needed in the years ahead."
Features of Yellowknife Airport's Striker 6×6 ARFF vehicle:
Duetz 2015 V8 697 HP Tier 4 final engine
50-foot (15.2 meters) Snozzle® High Reach Extendable Turret (HRET) with FLIR camera, color camera, and piercing nozzle
High-volume low attack HVLA turret
Water capacity: 3,170 gallons (12,000 liters)
Foam capacity: 420 gallons (1,590 liters)
Dry chemical capacity: 550 Ibs (250 kg)
Eco-EFP™ Foam Measurement System
Central Tire Inflation (CTI) System
Darren Daviduck, apparatus specialist – fire and emergency with Commercial Emergency Equipment Co., said:
"The temperature the day we delivered the new Striker 6x6 ARFF vehicle was -38.2 F (-39 C). Extreme cold weather conditions as low as -60 F (-51.2 C), rough and soft terrain, and the remote location made dependability and service support key factors for the Yellowknife Airport team. We appreciate their collaboration and the confidence they've placed in our apparatus specialists."
Yellowknife is the capital city of Canada's Northwest Territories and lies on the shore of Great Slave Lake. The Yellowknife Airport offers passenger and freight services with over 500,000 passengers yearly. Funding for the new Striker 6×6 ARFF vehicle was obtained through Transport Canada's Airports Capital Assistance Program (ACAP), which supports funding improvement projects for smaller regional airports, including improving regional airport safety.
Straker, added:
"Many smaller airports depend on the support of ACAP to assist with renewing their emergency services fleet. They have been an incredible resource, and we are grateful for the funding which has allowed us to purchase the crucial equipment we wouldn't otherwise be able to obtain."
To learn more about Oshkosh Airport Products and Yellowknife Airport's new Striker 6×6 ARFF vehicles, visit www.oshkoshairport.com.
This article was originally published by Oshkosh Corporation.