This article is a product spotlight featuring our Frangible GRP Fencing.
Frangible GRP Fencing – Description
Pollite frangible fencing is a non-conductive light-weight fencing system manufactured from FRP and GRP composites ensuring a durable robust system capable of resisting extreme weather and pollutant environments. Designed for ease of installation and fully non corrosive, this fencing system is ideal for surrounding sensitive monitoring equipment on or around the airfield.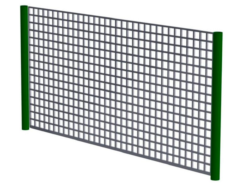 Features
Non corrosive
Non conductive
Environmentally durable
Frangible – ICAO compliant
Rapid installation
Available in a series of colours and sizes
10 year guarantee
Lightweight
Application
The Pollite frangible fence is intended for use in or around the airfield where protective fencing is required to be frangible in accordance with ICAO Annex 14 Pt 6 Frangibility.
Download the Frangible fencing data sheet here.
This article was originally published by Pollite.