Sydney Airport has opened Australia's first in-airport hotel in the Terminal 1 International arrivals hall.
The Aerotel hotel is operated by Plaza Premium Group. It features 15 single and double rooms and offers passengers the flexibility of booking rooms by the hour.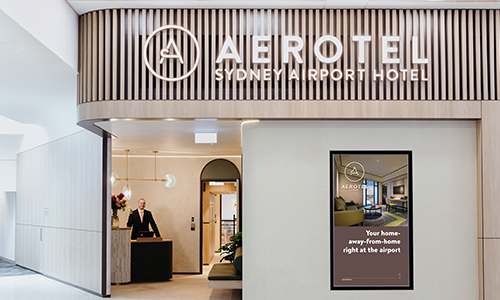 Departing passengers can use the hotel before walking upstairs to check in for their flight. Likewise, travellers arriving in Sydney can rest and refresh in the facility prior to their onward journey.
"Aerotel is an exciting, boutique hotel experience for the modern-day traveller and we're thrilled to be able to secure the first in-airport hotel in Australia.
"Convenience is key when you're travelling, and having the hotel situated within the International arrivals hall delivers that in spades - whether you're heading out or flying in, Aerotel will now play a central role in delivering a great airport experience for passengers."
The in-airport hotel rooms will have private bathrooms, showers and complementary Wi-Fi. The hotel also has a lounge area which serves a range of food and drinks.
"We are truly excited to launch the first in-airport hotel in Australia. Unlike other airport hotels, we can offer travellers the flexibility to book on an hourly basis. Our Plaza Premium Lounge is also ready to serve all travellers looking for a place to grab a quick bite, or just to enjoy some refreshments."