Akron-Canton Airport Debuts $37 Million Gate Modernization and Expansion
The Akron-Canton Airport (CAK) is thrilled to announce the official debut of its $37 million gate modernization project, the final element of a 10-year, $115 million capital improvement campaign.
The modernized gates allow the airport to accommodate aircrafts of all sizes, creating the opportunity to serve today's popular airlines and planes at all gates.
"Our success hinges on positioning our facilities to take advantage of any opportunity that may come our way. This project positions the airport for many years of growth and prosperity while maintaining our convenient, relaxing experience for travelers."
The previous concourse for American Airlines and Delta Air Lines originally opened in 1962, and although the airport has worked diligently throughout the years to maintain and improve those gates, they became functionally obsolete.
The gate modification project consisted of three main phases, orchestrated to minimize customer impact:
Phase one involved utility and drainage work as well as the construction of a 22,900-square yard concrete aircraft parking apron.
Phase two involved the actual construction of the new gates. This includes a two-level concourse consisting of 41,600-square feet, allowing for nine operational gates.
Phase three, which is currently in progress and on schedule, involves the demolition of the 58-year-old "Y" concourse, allowing 7,500-square yards of aircraft parking apron.
Bright, open spaces with ample seating, allow for social distancing while abundant power outlets and free WiFi keep travelers connected. In addition to the upgraded WiFi, 5G service is anticipated throughout the terminal in coming months.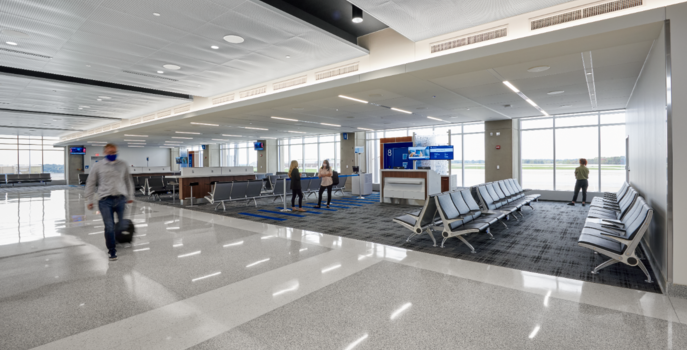 Favorite conveniences came to life through partnerships with local community businesses like the Ohio Desk Business Lounge, Aultcare Mothers Room, Step 2tmKids Playport, Akron Children's Hospital Ball Machine, Kulture City Sensory Room, and Coastal Pet Products Inc. Indoor Pet Relief Area.
The much-anticipated terminal makeover also includes jet bridges at every gate, so no passenger will have to make the quick dash from tarmac to aircraft in the event of inclement weather.
"The rate of return for customers at CAK is on trend with the rest of the United States, and we are excited to welcome them back to travel through our new concourse. This week nonstop flights to Tampa and Ft Myers will resume through the winter aboard Spirit Airlines. Plus, in mid-December we will begin serving Washington-Dulles aboard United Airlines, which is an excellent one-stop to Florida's sandy beaches and the Carolinas.
"We are both the first and last impression for visitors each year, and our duty is to prepare the airport to support a customer-centric, progressive, and diverse community for years to come"
CAK continues its commitment to cleanliness and has installed a new UV-light filtration system, implemented the use of self-cleaning surfaces along with increased cleaning and disinfection, and the use of touchless navigation.
Funding for both the gate modernization program and overall capital improvement program came from Federal Aviation Association grants, private bonds, state infrastructure bank loans and passenger facility charges. Zero dollars came from local tax dollars.
This article was originally published by Akron-Canton Airport.