Brisbane Airport (BNE) is set to undergo the biggest transformation in its history as part of a 5 billion AUD upgrade.
The Future BNE investment programme aims to create a better airport experience for Queensland residents by delivering more than 150 projects that will transform the state's largest transportation hub.
Renovations will include upgrades to both the airport's Domestic Terminal and International Terminal, while also continuing planning works for a new Terminal 3 Precinct. In addition to these upgrades, the airport will see expansions of aircraft parking and aprons, the resurfacing of its legacy runway and a new Aeromedical facility to centralise medical repatriation and emergency services.
"We're investing now to get ahead of the population growth curve so we're ready for 2032 and beyond. We're investing now so Queenslanders and the world are more closely connected. And we're investing now to be a leader in sustainability."
The airport is expected to see an increase of an extra 10,000 workers across the airport over the next decade, joining the 20,000 currently employed by more than 600 employers across BNE.
Work on the Domestic Terminal, which is planned to commence this week, has been triggered by requirements to bring the terminal's security screening equipment in line with Australian Government standards by the end of December 2025. The work will see new Computed Tomography (CT) technology installed into the terminal, which aims to improve safety through better, more streamlined security screening. The work for this upgrade will be carried out by security equipment and systems manufacturers, Rapiscan.
To accommodate the new screening equipment, a new mezzanine level is set to be constructed above the existing Central Terminal area in the airport. The new level, which is to be installed whilst BNE continues to operate at full capacity, will provide direct access from the 'Skywalk' (the walkway connecting car parks to the main terminal) to the Security Screening area. This will significantly benefit passengers who have already checked in and only have carry-on bags. Lendlease has been chosen to manage the project.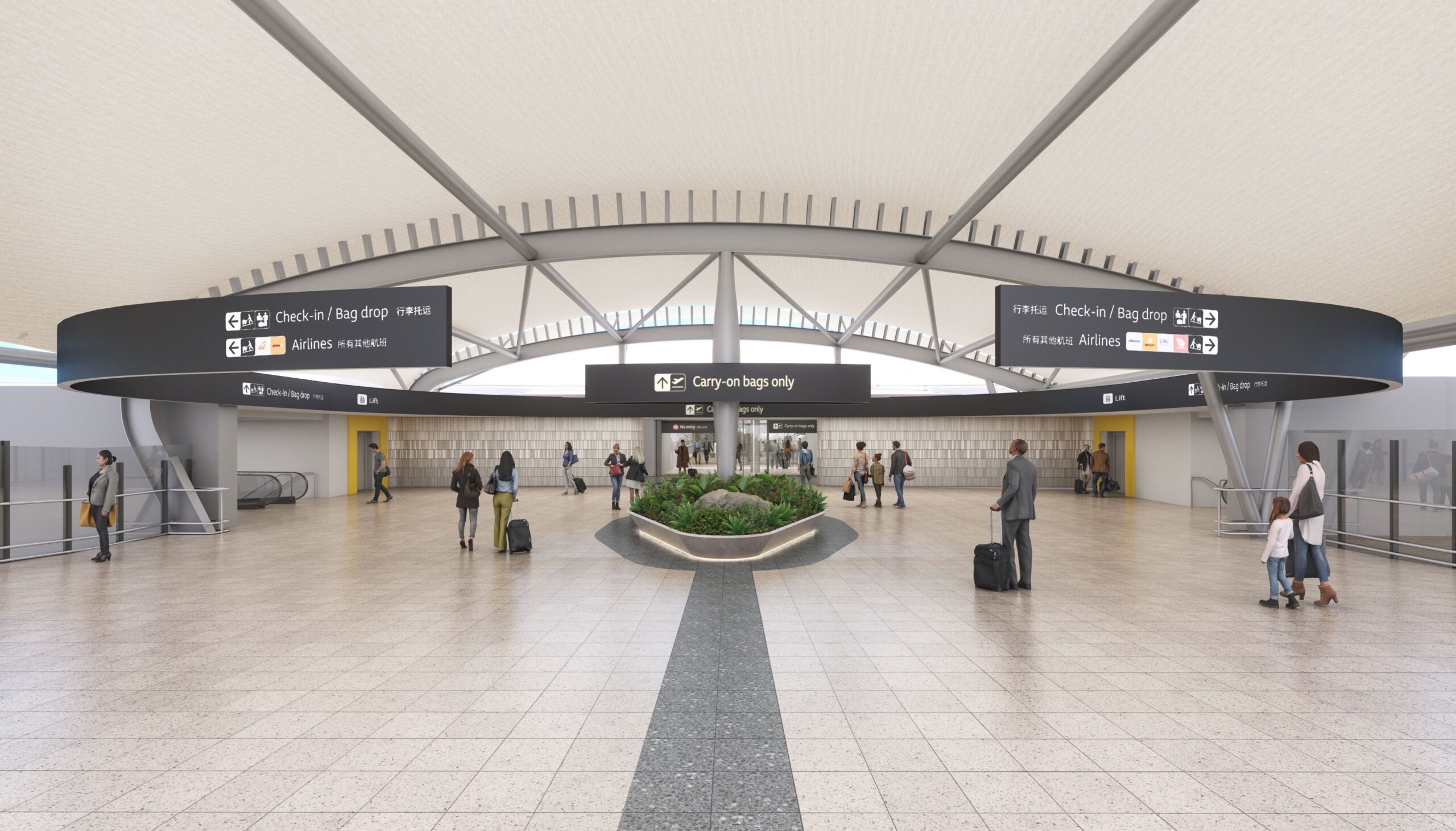 © BNE
"We will look after travellers every step of the way. The challenge is we are undertaking a vast project while still connecting 60,000 passengers to their destinations each day. It's a bit like doing open heart surgery on a patient while they're running a marathon. It won't be easy, but we must get it done so our terminal meets Australian Government mandated security standards for safer travel.
"It will be more important than ever for passengers to continue arriving 90 minutes before their domestic flight to ensure a smooth departure."
The airport's Domestic Terminal is also set to receive a new, energy-saving baggage system, featuring upgraded security features and modern bag-tag readers. This will replace BNE's current system, which was initially installed in the 1980's. A new baggage hall will be built adjacent to the central satellite walkway. The airport's current system will continue operating as the new system is built, tested and commissioned.
The Brisbane Airport Commission (BAC) has awarded global automation specialists, Alstef and Brock Solutions the contract for the new baggage handling upgrade.
In addition, the Domestic Terminal will benefit from Self Check-in upgrades to provide a quicker, simpler process for passengers. The terminal's bathroom facilities will also see significant upgrades in the form of expanded capacity, new fixtures and fittings and new accessible bathrooms, as well as parenting rooms. An expansion to the terminal's eating and dining options in the Virgin Australia area has already commenced construction.
Furthermore, the terminal's departure gates are set to be upgraded with new, Australian designed and manufactured café style social area seating. The airport will also be investing in a new suite of electric vehicle charging stations for its fleet of airside vehicles, pledging a 70% electric fleet by 2026, and a net zero target for scope 1 and 2 emissions by 2025.
Finally, BNE will be expanding its Domestic Terminal P2 car park to provide an additional 1,700 additional car parking spaces.
"This major upgrade will ensure our Domestic Terminal continues to serve Brisbane, Queensland and Australia for many years to come. And while there will be some changes to the way you move through the terminal during construction, the end result will be a terminal we can all be proud of. And this is just the start of Future BNE."