Dublin Airport has commenced operations from its newly constructed North Runway with the 12 noon departure of Ryanair flight FR1964 to Eindhoven.
The 320 million EUR North Runway (designated 10L/28R) and its facilities were delivered on-time and on-budget by daa, who owns and operates Dublin Airport.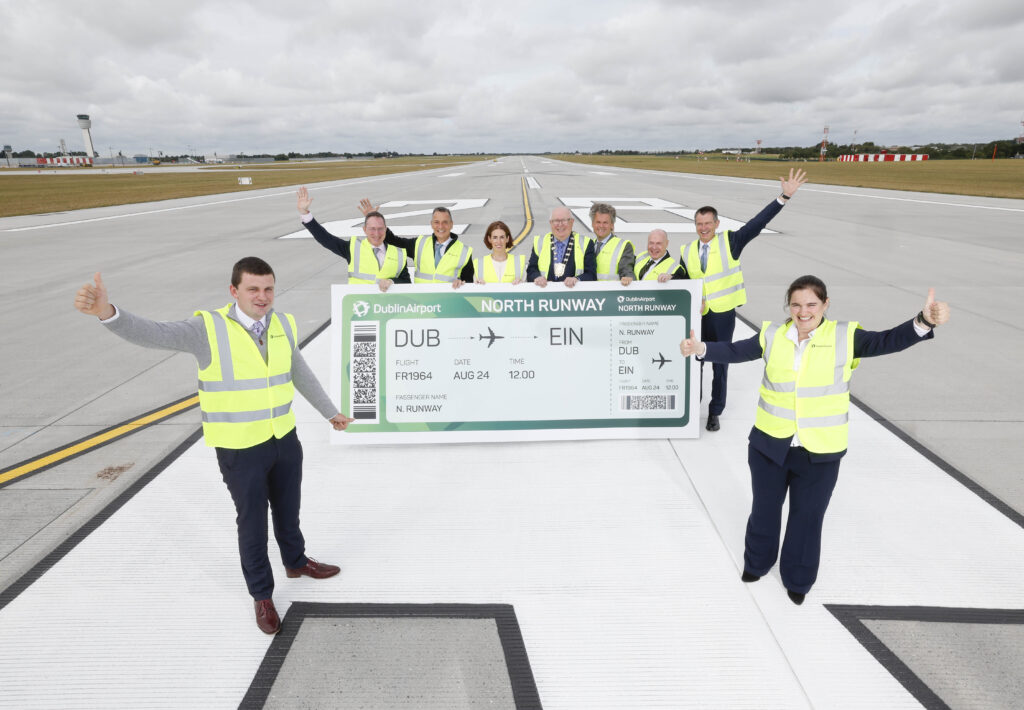 The North Runway is located 1.69 kilometres north of the airport's existing South Runway and will facilitate larger aircraft for long-haul destinations. In addition, it will provide much needed extra runway capacity for short-haul flights.
This addition is crucial for Dublin's growing position as a hub for travel between Europe and North America.
"The new North Runway will provide much-needed capacity and will enable Dublin Airport to re-build and enhance connectivity to our island, putting Ireland in a strong position to facilitate increased economic activity. The new runway is a crucial piece of infrastructure which will enable Dublin Airport to expand and provide the necessary capacity to connect key existing and emerging global markets."
The North Runway is fully compliant with European Aviation Safety Agency (EASA) standards to allow Dublin Airport to accommodate larger long-haul aircraft up to Code F types, which have wingspans from 65m to 80m. Code F aircraft include the Boeing 747-8 and the Airbus A 380-800.
The Boeing 737-8-200 aircraft used for the inaugural flight is one of a growing number of aircraft operating at Dublin Airport that are up to 40 percent quieter than previous models and burn less fuel.
"The opening of North Runway is an exciting milestone for Dublin Airport and Ireland, with the delivery of this once-in-a-generation piece of vital national infrastructure positioning Ireland for economic growth for many decades to come. The addition of North Runway will further enhance the role of Dublin Airport as a vital economic enabler for Irish tourism, trade and foreign direct investment.
"I am enormously proud of everyone who helped deliver this remarkable piece of aviation engineering both on budget and on schedule, ready to commence operation at a vital time for aviation and for Ireland."
The development has been part of Dublin Airport's long-term strategic planning and land use prioritisation since the 1960s. It will support the creation of 31,200 new jobs and will enable 2.2 billion EUR in additional economic activity.