VINCI Airports has announced that Clermont-Ferrand Auvergne Airport in France has become the first airport globally to deploy a fully electric de-icing vehicle.
The new e-Mini MY Lite de-icing vehicle was designed by Vestergaard and is the first 100% electric de-icing vehicle available on the market.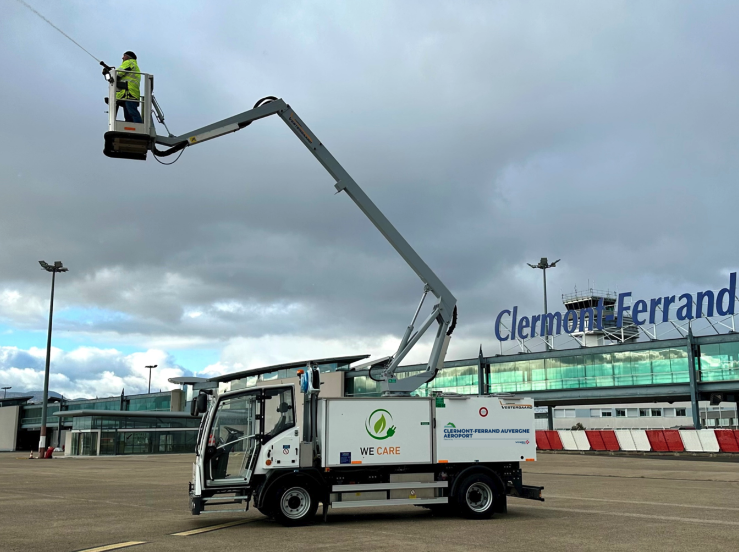 Although Vestergaard has previously supplied its Elephant e-BETA de-icer to airports such as Munich, Helsinki and Oslo, this earlier model drives using a conventional diesel engine, and uses battery-electric power solely for de-icing.
"Vestergaard Company is proud to deliver its very first 100% electric de-icer, the e-Mini MY Lite, to Clermont-Ferrand Auvergne Airport. We hope that this de-icer will satisfy our new customer and we are pleased to be able to contribute to VINCI Airports' ambition to achieve net zero emissions for its entire European network by 2030."
In purchasing the e-Mini MY Lite vehicle with the financial support of SMACFA (Syndicat Mixte Aéroport Clermont-Ferrand Auvergne), VINCI's team at Clermont-Ferrand is now able to use a fully electric de-icer to help decarbonise its operations.
This achievement adds to Clermont-Ferrand Auvergne airport's ongoing environmental efforts, which included becoming the first French airport to make biofuels available to airlines in 2021.
The de-icer will be used to treat all small and medium-sized aircraft at the airport. Its powerful battery can perform 8 to 12 de-icing operations per charge and can travel between 40 to 75 kilometres.
The de-icing fluid is contained in 2 tanks with a total capacity of 4,000 litres and is heated electrically.