Geothermal Project Now Underway at Louisville Muhammad Ali International Airport
System will be the largest of any airport in the U.S.
Last week, the Louisville Regional Airport Authority celebrated the beginning of the largest geothermal system of any airport in the country at the Louisville Muhammad Ali International Airport (SDF) with a formal groundbreaking ceremony. Using geothermal technology, this $21.7 million project will save energy by using the earth's natural temperature to heat and cool the Jerry E. Abramson Terminal. It also marks another major milestone of the SDF NEXT Program that will see a $400 million investment in improvements to the airfield and terminal in the coming years.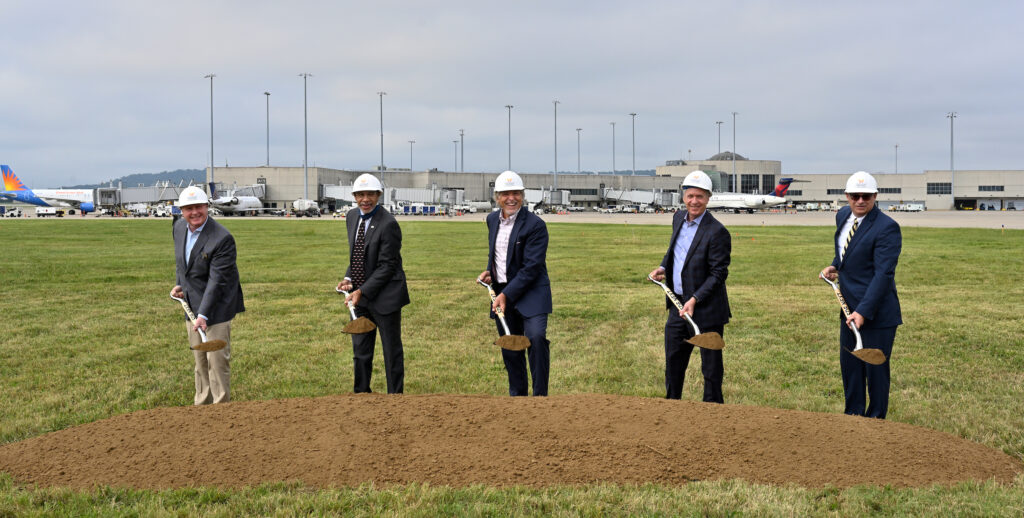 "This geothermal project reaffirms our commitment to providing a best-in-class experience and facility for passengers at Louisville Muhammad Ali International Airport. Not only will this innovative technology make system-wide improvements and increase efficiencies, but we are also setting an example in the industry to reduce carbon emissions and energy use. The geothermal project is another celebrated highlight of our SDF NEXT Program as we continue making vital improvements to our airfield and terminal."
A total of 648 vertical geothermal wells will each be drilled 500 feet deep into the earth on the east side of the SDF airfield. It's through these wells, the earth's natural temperature will then be used to keep the terminal cool in the summer and warm in the winter. The new HVAC system will also increase the amount of outside air circulated through the terminal, contributing to a healthier environment for travelers and airport staff.
This geothermal system at SDF will cut carbon emissions by 80% through the reduction of pollutants such as ozone, carbon monoxide and particulate matter associated with the burning of natural gas. In addition, it uses 40% less energy than traditional systems and saves $400,000 each year in heating and cooling operating costs. It will also require less maintenance and has an operating life that is two to three times longer than an average HVAC commercial system. Most of the current HVAC equipment will be removed, making room for future terminal enhancements.
"As former board chair of the Louisville Muhammad Ali International Airport, I am excited to be attending on behalf of Gov. Beshear. The Governor and I recognize the significant role the airport plays in the economic growth and strength of Kentucky. SDF is an important gateway for tourists visiting the commonwealth and an important hub for business travel across the region. This project demonstrates how innovation can improve the quality of life both for travelers utilizing this facility and for the community that surrounds it."
Once the installation of the geothermal system is complete, the wellfield will then be used to support improvements to the airfield's infrastructure. These nine acres will be transformed into additional terminal ramp space for use by the airport's airline partners. This new space will also prove crucial each year when hundreds of private and charter aircraft descend on Louisville for the Kentucky Derby, many of them parked for several days of festivities.
"This geothermal project puts Louisville on the cutting edge of clean and sustainable energy. It is good for the environment, for our people and for our businesses. We are committed to leaving the world a better, cleaner place, and through this project, we are leading by example, as true champions of environmental sustainability. Thank you to the forward-thinking and -acting people at Louisville Muhammad Ali International Airport, Dan Mann, his entire team and the Louisville Regional Airport Authority Board."
The U.S. Department of Transportation's Federal Aviation Administration (FAA) awarded $10.6 million to the Louisville Muhammad Ali International Airport as part of their Voluntary Airport Low Emissions (VALE) Grant Program. The VALE Program aims to build more sustainable airports and this grant will cover the cost of the geothermal wellfield and piping infrastructure connecting to the terminal building.
"I'm so proud to have helped secure federal funding for one of the most forward-thinking and future-minded investments we can make—embracing renewable energy to reduce emissions, cut costs and ensure a more sustainable and successful future for Louisville and Louisville Muhammad Ali International Airport. This airport is an economic powerhouse of our city, and today's groundbreaking once again makes clear that Louisville can and should be at the forefront of green technologies that create good jobs, save money and provide a healthier and more inhabitable environment for this and future generations. I'm thrilled that the American Rescue Plan—legislation I was honored to sponsor—played a key part in making this project a reality. Today is a great day for our city, its travelers, and our shared future."
The geothermal wellfield system installation and construction of the new airfield ramp are expected to be complete in Fall 2022. Design of the geothermal system was completed by CMTA. Design of the airfield ramp was completed by HNTB, with work to be done by E&B Paving, Inc.
Since early 2020, several major projects have been completed as part of the SDF NEXT Program aimed at improving the customer experience. These include a new Airport Operations Center and new rental car facility, direct access via covered walkways between the terminal and parking garage and a new pet relief area. Multiple parking enhancements were also done including new parking options in the Express Shuttle and Premier Lots, installation of the Park Assist system and aesthetic improvements in the parking garage and the introduction of the SDF Rewards Parking Program.
Click here for a fact sheet on the SDF NEXT: Geothermal Project, including how geothermal works.
This article was originally published by Louisville Muhammad Ali International Airport.