Oshkosh Corporation to Acquire Aerotech Business from JBT Corporation, Adding Market Leader in Attractive Air Transportation Support Sector
Purchase price of $800 million; $720 million net of expected tax benefits
Enhances growth and margin profile
~$20 million in annual run-rate synergies expected by year three
Broadens end markets and increases recurring revenue base
Expected to be EPS accretive within first year with ROIC in excess of 10% by year three
Oshkosh to host investor call at 9:00 a.m. EDT today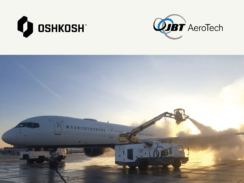 Oshkosh Corporation (NYSE: OSK), a leading innovator of purpose-built vehicles and equipment, today announced that it has entered into a definitive agreement to acquire the AeroTech business ("AeroTech") from JBT Corporation (NYSE: JBT) in an $800 million all-cash transaction. When adjusted for the present value of expected tax benefits of approximately $80 million, the purchase price is $720 million. This represents approximately 9x earnings before interest, taxes, depreciation and amortization (EBITDA)1 based on the expected 2023 second half run-rate or approximately 7.2x EBITDA including expected run-rate synergies. Upon close, AeroTech will become part of the Oshkosh Vocational segment.
AeroTech is a leading provider of aviation ground support products, gate equipment and airport services to commercial airlines, airports, air-freight carriers, ground handling and military customers. Like Oshkosh, AeroTech offers products that make a difference in people's lives by supporting those in our communities who do some of the toughest work. They own many of the most trusted brands in the air transportation industry with systems in the field that serve approximately 75% of air travelers at U.S. airports and load approximately 70% of the world's overnight express packages.
AeroTech's purpose-built products are closely aligned with Oshkosh's technology focus areas including electrification, autonomy & active safety and intelligent, connected products. With AeroTech, Oshkosh will enter the attractive air transportation support market, which is in the early stages of an investment cycle and supported by secular tailwinds related to increasing air travel demand, commercial airline investments and infrastructure improvement.
The acquisition is expected to be accretive to Oshkosh's growth and margins and deliver solid recurring revenue from its aftermarket parts and services offerings.  AeroTech's recurring revenue, together with the distinct investment cycle and demand dynamics of its end markets, are expected to further enhance Oshkosh's overall business through market cycles.
"This transaction supports our 'Innovate. Serve. Advance.' business strategy as we enter the attractive air transportation support space with a market-leading portfolio of purpose-built products and comprehensive service offerings.
"AeroTech meets all the criteria of our M&A priorities, and we believe it will enhance the financial profile of our Vocational segment, further strengthening this growing segment and enabling it to move beyond our goal of $3 billion-plus annual revenue with double-digit margins. We look forward to working with the AeroTech team to integrate the business and unlock value for our customers and shareholders."
Compelling Strategic and Financial Benefits
Unites complementary commercial and technology capabilities to drive innovation:  AeroTech's highly engineered product offerings together with the strength of Oshkosh's portfolio and technology ecosystem aligned to electrification, autonomy and connectivity will create significant opportunities for product innovation, positioning AeroTech to enhance and expand its suite of products to serve customers.
Increases resilience of portfolio with healthy mix of aftermarket parts and services: Oshkosh expects AeroTech's large installed base and service contracts to drive meaningful recurring revenue and create a platform to enhance these capabilities across Oshkosh's portfolio.
Enhances growth and margin profile: AeroTech has a strong financial profile underpinned by favorable secular trends. Oshkosh expects to deliver approximately $20 million in annual run-rate synergies by year three and expects AeroTech to be accretive to Oshkosh's earnings per share within the first year following close. The acquisition is expected to deliver return on invested capital (ROIC) in excess of 10% by the third year following close.
Broadens end markets: AeroTech is a market leader in the air transportation support sector with significant growth tailwinds resulting from increasing air travel demand and infrastructure spending.
Advances sustainability initiatives: AeroTech will add electric ground support equipment and automation features in mobile and fixed equipment systems to continue advancing Oshkosh's mission to reduce the environmental footprint of its products while improving safety, quality, efficiency and longevity.
Timing and Financing
The acquisition is expected to close in the third quarter of 2023, subject to regulatory approval and customary closing conditions.
Oshkosh expects to fund the transaction through a combination of cash on hand and capacity under its current revolver. Following the close of the transaction, Oshkosh expects a debt/EBITDA leverage ratio1 of approximately 1.5x, a ratio that remains under its target of 2x debt/EBITDA.
Advisors
Goldman Sachs & Co. LLC is serving as exclusive financial advisor and Cravath, Swaine & Moore LLP is acting as legal advisor to Oshkosh.
Conference Call
Oshkosh will host a conference call today, May 30, 2023, at 9:00 a.m. EDT to discuss the transaction. Slides for the call will be available on Oshkosh's website before the call starts.
A listen-only webcast of the conference call will be broadcast live and can be accessed through Oshkosh's website at: oshkoshcorp.com. The conference call may be accessed by dialing 877.709.8150 (domestic) or +1 201.689.8354 (international). Due to an anticipated high number of participants, listeners are encouraged to join the webcast unless they intend to ask questions. Those joining by phone should dial in at least 10 minutes prior to the start of the call. An audio replay of the call and related question & answer session will be available for 12 months at this website.
This article was originally published by Oshkosh.