Seattle-Tacoma International Airport (SEA) has unveiled its new International Arrivals Facility, following the completion of the project's construction.
The International Arrivals Facility is the most complex capital project undertaken by the Port of Seattle. It will replace the 50-year-old customs area and will increase the number of international gates at the airport from 12 to 20. This expansion more than doubles the passenger capacity from 1,200 to 2,600 passengers per hour, thus supporting the continuing recovery of international travel.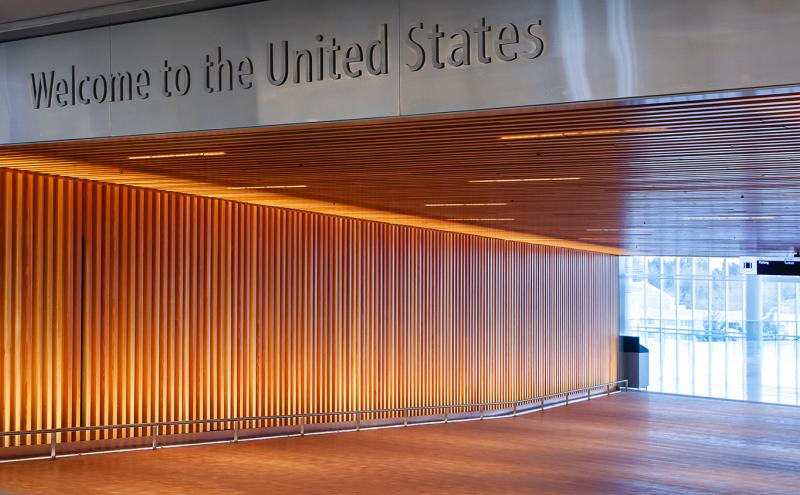 The facility aims to offer passengers a more predictable and less stressful arrival and customs experience, offering additional amenities such as nursing rooms, pet relief areas and restrooms. The size and number of bag claim carousels has also been increased, and enhanced technologies have been incorporated for faster passport check clearance.
These improvements have reduced the minimum passenger connection time from 90 to 75 minutes.
"We needed to improve the customer experience to make travel less stressful and more predictable. This is your first impression of our region and airport. Everything from the views out the window to the simplicity of getting on your way should put you at ease."
The International Arrivals Facility's architecture was designed to mirror the aesthetics of the Pacific Northwest and welcome travellers to the region. Floor to ceiling windows provide natural light along with sunrise and mountain views, while a courtyard with plants and trees will allow passengers to enjoy greenery as they exit the facility.
"We've designed a series of dramatic, light-filled spaces that allow travellers to move more efficiently through the international arrivals process, enhancing the passenger's experience. Airports play an important role in welcoming travellers to their destination. This building and the bridge have a lightness and open quality that celebrate the rich landscape of the Pacific Northwest."
It took nearly three million labour hours to construct the SEA's International Arrivals Facility, which includes impressive structural features such as the world's longest aerial walkway over an active taxi lane.
Final readiness testing is taking place in the new facility this month, with passenger operations starting in the spring.
"Everything about this new facility — from its design to its artwork to its vistas, and even the way passengers move through the building — demonstrates our region's most enduring values, and reinforces our commitment to being the best connected, most convenient, sustainable, and welcoming airport in the world."
To fulfil the Port of Seattle's mission of environmental stewardship and sustainability, SEA's new international arrivals facility prioritises green building elements. These include energy-saving LED lighting, energy-efficient escalator motors, and low-flow restroom fixtures to reduce water use.
Conscientious construction also removed 7,163 tons of contaminated soil and 62,405 gallons of impacted stormwater from the project site, while many materials were sourced from within 100 miles.