Lagardère Travel Retail Belgium Inaugurates the First Automated Store at Brussels Airport
Based on their acquired experience, Lagardère Travel Retail Belgium and Atos have joined together in order to develop a fully automated Duty Free point of sales, offering the passengers travelling from Pier A at Brussels Airport a unique and original shopping experience.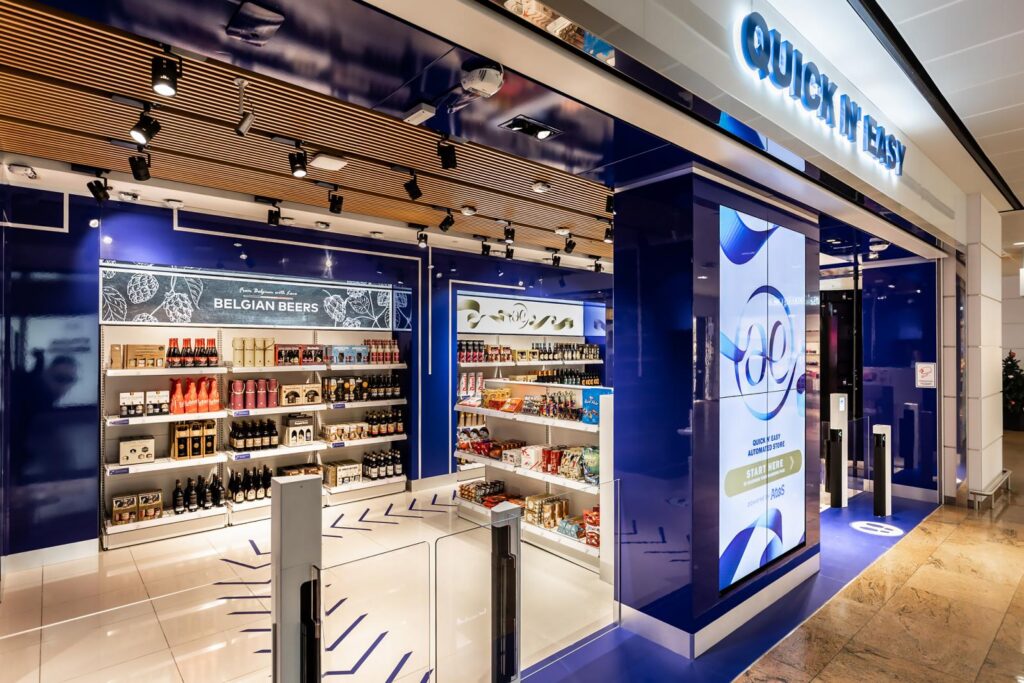 This new technological concept, based on the use of interactive furniture and 3D (Lidar) cameras, allows the automatic recognition of products selected by the passengers. After entering the point of sales by scanning their boarding pass, the passengers can freely select their favourite articles. Those are grouped in a virtual basket at the moment they pass the payment terminal. The passengers can then check the details of their basket, finalize the transaction with their credit card and leave the point of sales with the articles they have purchased.
After a few weeks of testing, this point of sales, named "Quick N' Easy" offers to the passengers of Brussels Airport as of now a range of bestsellers of Belgian beers and chocolates.
Nicolas Van Brandt – CEO Lagardère Travel Retail Belgium, said:
"For Lagardère Travel Retail it was ever since highly important to innovate in the use of technologies related to its core business. Thanks to the support of Brussels Airport, the technological expertise of Atos and our experience as retailer, we were able to develop this new concept in a very short notice. Passengers of Terminal A will be astonished by the easy way of working and the brand new retail experience. By offering this new automated point of sales at the airport, Lagardère Travel Retail ensures its role as a trendsetter."
Arnaud Feist, CEO of Brussels Airport, said:
"At Brussels Airport, we are always looking for opportunities to enhance the passenger experience and to offer quick and touchless alternatives for our passengers throughout the airport. With this innovative shopping solution, a purchase can be done swiftly and autonomously, without even the need to scan the products. This is truly a "Quick N' Easy" stop to shop for some Belgian delicacies as a gift or just for yourself."
Punit Sehgal, CEO of Atos Belux, said:
"This project represents the fusing of technology, optimised customer experience and convenience to deliver an innovative retail experience that is designed to function intuitively and in harmony with the shopper. With this offering, Lagardère Travel Retail now provides a cutting-edge shopping experience that sets it apart in Belgium."
This article was originally published by Lagardère Travel Retail.