Vanderlande's BAGFLOW has been chosen as the winner of the inter airport Europe Excellence Awards in the interFUTURE Special Award category.
The end-to-end baggage logistics concept claimed the top spot, and confirms Vanderlande's continued commitment to developing solutions that guarantee success for airports, airlines and passengers.
The inter airport Europe Excellence Awards acknowledge the aviation industry's best solution-focused technologies that help to further develop the market. The interFUTURE Special Award category rewards visionary and bold new ideas, products and services that help to build a platform on which to define and create the 'airport of the future'.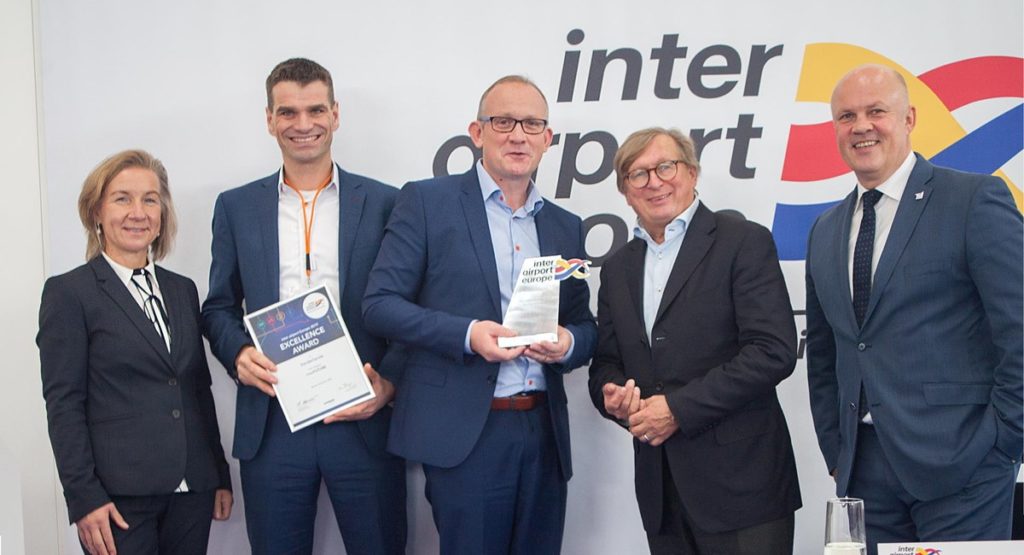 By establishing an integrated approach to the total bag process – from the bag drop right through to the aircraft – BAGFLOW allows airports to handle more bags in the same footprint, optimise resource use, and keep costs under control. The award was voted for by the international airports community, and Vanderlande was formally presented with the prize during the opening and awards ceremony on the morning of 8 October.
Vanderlande's Board Member and Executive Vice President Airports, Andrew Manship, accepted the award on behalf of the company:
"Winning in this category is confirmation that we not only understand the challenges facing the aviation industry, but are able to define solutions that help it surpass them. I am delighted that BAGFLOW has received the top honour this year, because Vanderlande prides itself on continuously listening to its customers and working closely with them to define future-proof concepts that improve operational performance."