'Baggage 4.0' – Towards Highly Automated and Predictable Baggage Operations
Airports and airlines are witnessing a return to the levels of demand seen before the pandemic. However, as the market recovers, that demand remains unpredictable and other challenges must be addressed. These include labour shortages, health, safety and environmental issues – as well as the need to reduce operational costs.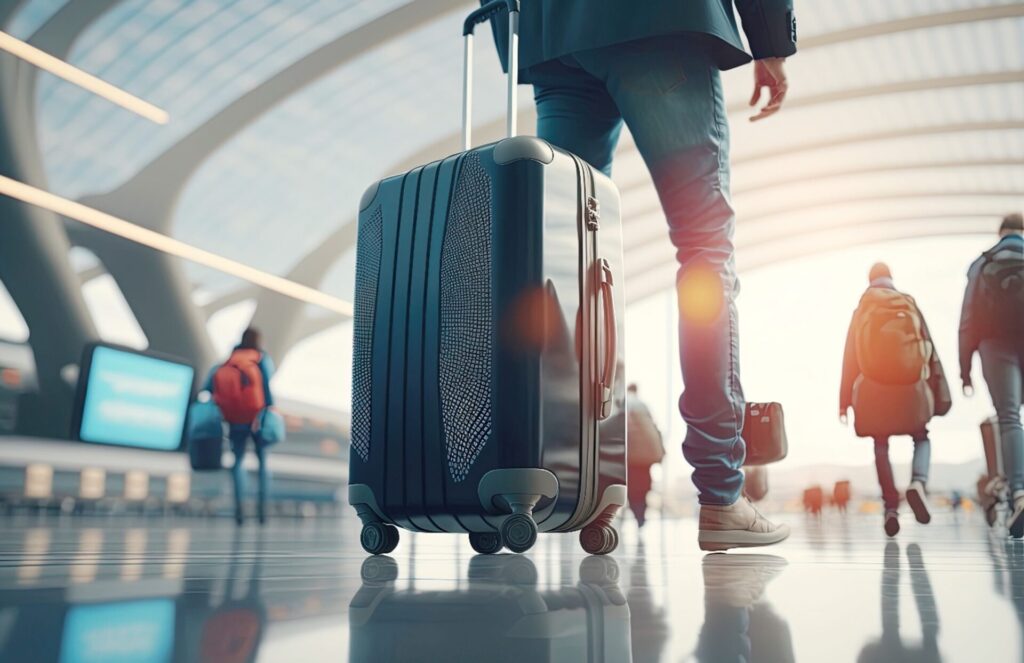 So, how can the industry get the most out of its people and assets? Vanderlande aims to harness the power of data-driven solutions to create an advanced, highly automated system for baggage flow based on our Baggage 4.0 vision.
We take our inspiration for Baggage 4.0 from what is termed the fourth industrial revolution – or Industry 4.0. Technologies and processes, such as the Internet of Things (IoT), cloud computing, robotics and artificial intelligence (AI), can combine to deliver sophisticated and highly-integrated automation capable of carrying out complicated tasks and enabling increasing interconnectivity and smart automation.
Baggage 4.0 is our vision for a sustainable, scalable, automated baggage handling operation through which all bags are delivered on time, every time, with little human intervention. With the right digital solutions and services – along with increased automation and advanced robotics – we will be able to improve the baggage flow by allowing systems and processes to work together seamlessly, while unleashing the power of data-driven decision making.
In such an environment, the bag journey is revolutionised as the baggage handling system is transformed from a series of conveyors and sorters to an adaptive, smart entity. We're already in a position to make incremental steps towards a complete Baggage 4.0 process.
We want to establish predictive, and eventually prescriptive technology, within airport operations. This will allow anomalies to be flagged up in advance and dealt with automatically. Problems which can ordinarily disrupt a baggage flow, such as equipment breakdown, will be anticipated ahead of time.
A Baggage 4.0 approach will also ensure what is working well becomes more efficient as we optimise equipment and processes. The result is a future-proof, quality system that busy airports can rely on.
The Digital Ecosystem as a Key Enabler
Solutions in this field include robotics, autonomous vehicle (AV) technology and artificial intelligence (AI) for automatic loading and unloading, self-driving transportation and prescriptive operations. Together, these will help to make Baggage 4.0 a reality. Yet our existing digital solutions act as the backbone for this endeavour and will be essential in further developing a completely predictive operation.
We have software that ensures all processes and operations run smoothly across the entire baggage handling system, as well as the digital analytics we need for those crucial predictive operations. These all link to the computerised maintenance management information system (CMMS).
We also use data about passenger flows to help us predict baggage demand. To complete the picture, we'll collect and share information and data from other stakeholders to gain insight into factors like service demand and the status of flights.
The Next Level of Predictability
Baggage 4.0 will create an optimised workflow, helping airports to understand what's coming next and to use their time effectively. It will allow maintenance teams to better schedule inspections, for example during the daytime.
By being able to predict when a piece of equipment will require maintenance, airports can reduce the number of physical inspections they make – and the number of parts they use. In turn, this means they can make the most of their assets, ensuring they perform in an optimal way. Using parts and labour more efficiently – as well as reducing the consumption of energy and materials – contributes to the sustainability of airport operations.
There's an important human component to consider here as well. Cutting down on those regular – and time-consuming – inspections will free up maintenance engineers to focus on essential work, such as keeping equipment in good order and making repairs.
From Check-in to Loading
Moving beyond maintenance, Baggage 4.0 is also about optimising the entire baggage handling process. The goal here is to help airports predict the baggage flow as a way of bringing greater efficiencies to their operations, which will lead to a dramatic reduction in mishandled bags.
Robotics and AV technology will help deliver the advanced, end-to-end solution we expect from the Baggage 4.0 concept. Robot technology is developing fast and will play an increasingly important role in areas with significant manual handling requirements – from check-in right through to loading onto the aircraft.
Meanwhile, AVs will be deployed to automate the ground handling journey. They can be used to transport unit loading devices (ULDs) and carts between the baggage hall and the aircraft. Thanks to their scalability and flexibility, AVs can also help airports deal with exceptional baggage flows at busy times.
The Baggage 4.0 concept embraces sustainability as a guiding principle. We're following circular design principles for its design, replacing virgin for recycled materials, using energy efficient technologies in our equipment, and remanufacturing spare parts to reduce our carbon footprint and minimise waste. In addition, it enhances a safe and attractive workplace by eliminating manual lifting of baggage and increasing user experience.
These principles are also reflected in Vanderlande's commitment to our company's four sustainability missions: a zero carbon footprint by 2040; achieving circularity and becoming a regenerative company by 2040; while embracing good business principles and providing fulfilling experiences for all employees.
So, what do you think of our vision for end-to-end baggage handling? Check back again soon for our next Baggage 4.0 blog from my colleague Valerie Goemans, who will discuss Vanderlande's plan for predictive solutions and process optimisation in more detail. And, in a final blog, we will expand on the role of AV technology, robotics and AI.
This article was originally published by Vanderlande.