Fraport AG has presented the first vehicle delivered by Siemens Mobility for Frankfurt Airport's (FRA) new Sky Line automated people mover (APM).
This new transportation system will connect FRA Terminal 3 with the existing terminals using 12 vehicles manufactured at Siemens Mobility's factory in Vienna. Each of the 12 vehicles will consist of two permanently linked cars weighing 15 metric tons.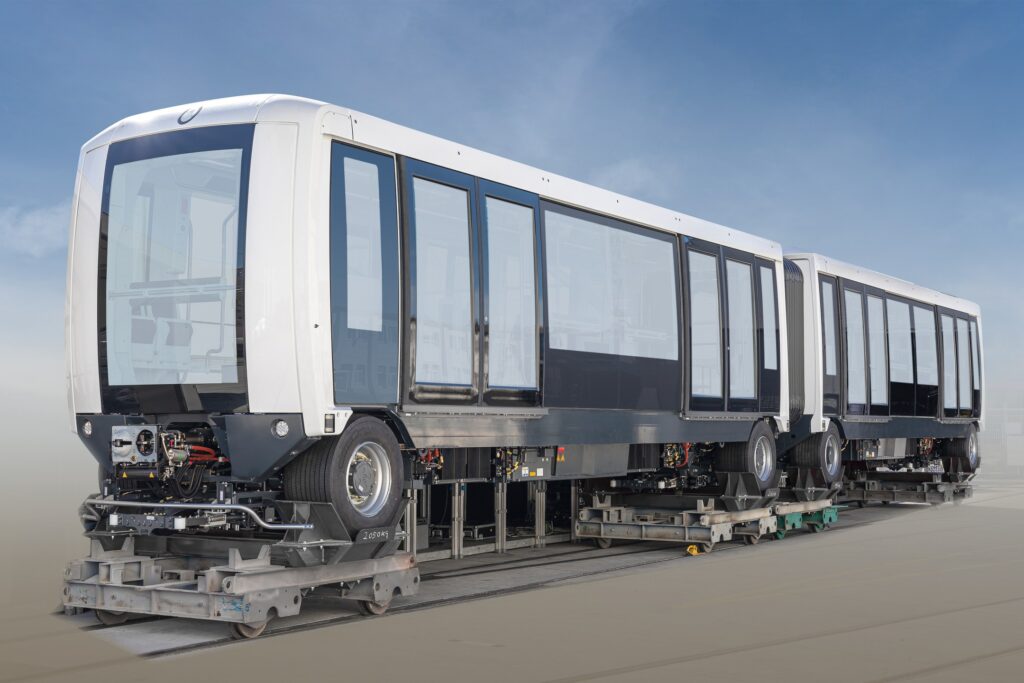 Following this public presentation, the first of these vehicles will now be prepared for initial testing, which is scheduled to take place in 2023.
"I'm very pleased to present part of Frankfurt Airport's future today. The new Sky Line will integrate Terminal 3 into the existing airport infrastructure. And the arrival of this first vehicle marks yet another important milestone in the overall project. We are deploying state-of-the-art technology and intelligent construction methods to implement our vision of a futuristic airport terminal. Travellers, guests, and employees can all look forward to short paths, high frequencies, and outstanding levels of comfort and convenience."
The Sky Line will complement the airport's existing system between Terminals 1 and 2 by carrying up to 4,000 people an hour in each direction to and from Terminal 3.
When the system is operational, the APM vehicles will operate every two minutes. They will run on angled wheels around a mounted guide rail that has been designed to promote safety.
"The delivery of the first fully automated vehicle marks an important milestone in the construction of the new Sky Line. Going forward, these conveyances will efficiently, comfortably, and sustainably carry passengers to and from the new terminal. The trains are based on our proven Val solution, which is already in use worldwide, including at airports in Bangkok and Paris."
The Max Bögl Group is primarily responsible for building the new 5.6-kilometre Sky Line route, with work ongoing since July 2019.