Worldwide Flight Services (WFS) and Aena are trialling the use of an autonomous vehicle to move cargo between the warehouse and apron at Josep Tarradellas Barcelona – El Prat Airport (BCN).
During this 10-week trial, WFS and Aena will work with ground-handling equipment manufacturer, FASEREK; technology provider, MOVVO; and towing tractor provider, SIMAI to test the performance of an automated ground vehicle (AGV).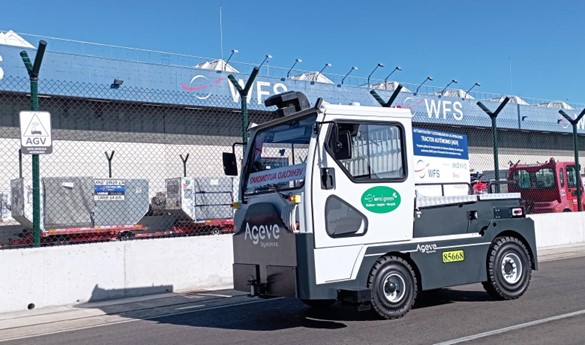 The first phase of this trial will focus on cargo transport operations between the WFS cargo terminal and BCN Terminal 1 using a ramp tractor equipped with AGV technology.
Using this technology, the cargo towing tractor will be able to recognise its environment, position itself accurately, detect obstacles and act to avoid collisions.
The vehicle will travel along a planned, point-to-point route spanning 2.3 kilometres. At this stage of the project, the towing tractor will not enter aircraft manoeuvring areas.
Jordi Campderrós, PMO Manager of WFS Spain said:
"Through our test project, WFS will learn about the viability of automated vehicles in a busy airport tarmac environment to help us understand any limitations or challenges we will need to overcome before any future deployment of this technology at airports around the world.
"We have selected Barcelona for this trial because of the progressive approach of Aena to automation and sustainability, and because the perimetral tarmac road linking WFS' premises and Terminal 1 provides an ideal environment to conduct this assessment. The future benefits of AGV technology are obvious in terms of productivity gains, safety, and sustainability, and this can ultimately be replicated at airports across the globe."