What Are the Advantages of Automated Passport Control Kiosks?
Boosting efficiency, streamlining security and enhancing customer experience are three main purposes of border control self-service kiosks. Interactive kiosk terminals at airports now require to be more advanced, yet intuitive, than ever, as the solution needs to cater for vaccine passports and health screening.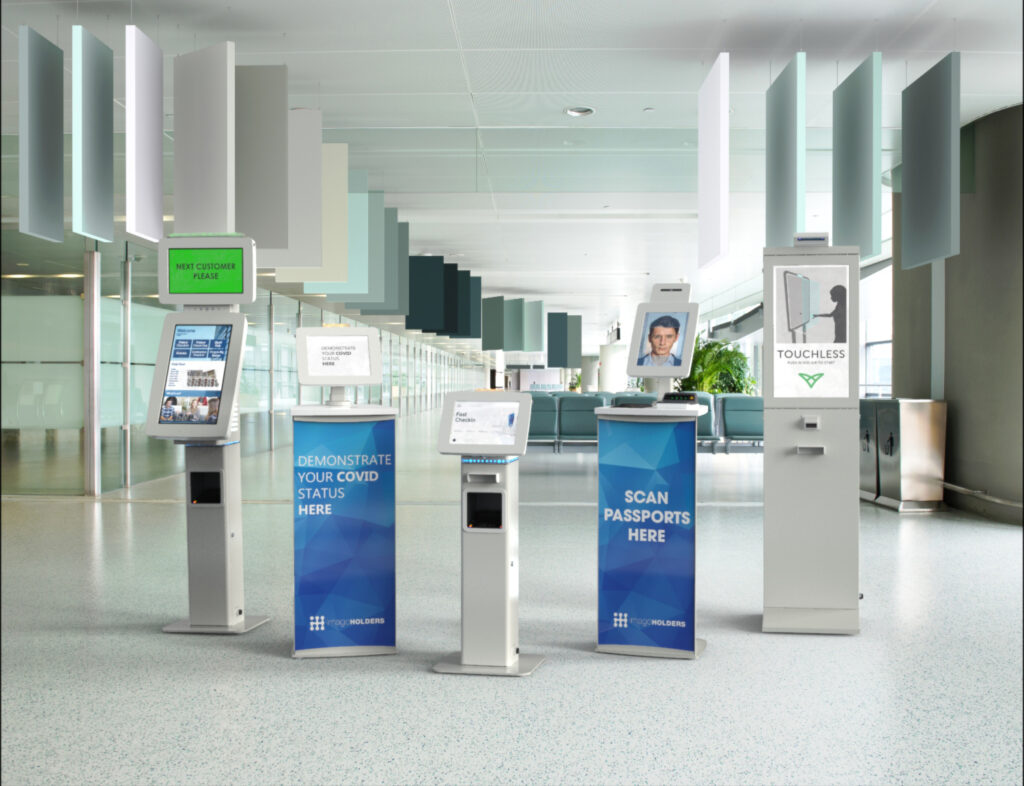 Initially, self-service at airports was introduced to cope with the increasing number of passengers passing through the airport daily, to service those who were travelling during less busy hours, so to reduce staff required during these times, and to address the challenges regarding capacity constraints.
Now, airports must look at automation to provide a solution for digital vaccine passports and essential health screening, as a response to the Covid-19 pandemic.
Benefits of Automated Passport Control Kiosks
Greater Autonomy for Passengers
Rather than waiting in a long queue to check-in for the flight, scan passports (and now review essential Covid-19 travel documentation), print boarding passes and bag drop luggage, customers can simply use one self-service kiosk solution to complete all of the above themselves. Scanning a QR code or a printed boarding pass with barcode allows for easy check-in. A clear screen display offers important instructions to the passenger to ensure a smooth and intuitive process.
Implementing an automated passport control gives the passenger almost full control of their airport travel experience, resulting in increased efficiency, customer satisfaction and productivity of staff.
Adhere to Covid-19 Travel Restrictions and Requirements
imageHOLDERS modular kiosks allow for future updates, allowing companies to adhere to changing requirements in the travel industry. Now, it is essential for travel companies to follow government guidance when it comes to travelling during the Covid-19 pandemic.
Self-service kiosks can be fitted with QR code scanners, which can scan vaccine passports and travel documents relating to Covid-19 health screening. This is likely to become the norm when travelling to and from high-risk countries for transmissible viruses.
Self-service solutions that scan both passports and essential documents, plus have additional devices for biometric scanning, allows for biometric enrolment programs, thus streamlining the screening and security system further.
Reduce Waiting Times for new European Entry/Exit System (EU-EES) Regulation
New European Entry/Exit System (EU-EES) regulation requires facial identification and fingerprinting of migrants at Schengen borders, as a result, increased delays are expected.
Biometric scanners, such as fingerprint readers and facial recognition cameras, can be installed in imageHOLDERS Automated Passport Control Kiosk Terminals, which increase efficiency, thus reducing wait times. Additional benefits are greater autonomy for migrants enrolling biometric data and increased staff productivity due to being freed from manual the manual process of the EU EES regulation system.
Optimal Solution for Border Authorities and Staff
Automated Passport Kiosks efficiently manage passenger flow, whilst capturing imperative data and managing safe and secure access control. This reassures border authorities that essential biometric acquisition, health screening and passport scanning are being taken care of by a self-service solution. These solutions then allow for staff to devote more time to other important tasks.
The implementation of automated self-service solutions optimise airport space and reduce queues, therefore minimising the time that passengers spend in close contact in the same space with each other, thus decreasing the opportunity for Covid-19 transmission. In addition to making the airport safer, this makes passengers feel more comfortable whilst travelling and, consequently, improves customer experience.
Automated Passport Kiosks also reduce physical contact, further lowering risk of virus transmission. The kiosk screen can be fitted with an anti-microbial screen, which reduces the buildup of bacteria, ensuring that the touchscreen offers optimum safety during the pandemic.
This article was originally published by imageHOLDERS.