Based on specific user cases from a variety of industries, imageHOLDERS Core Range is software and hardware agnostic, enabling the 'art-of-the-possible'.
Document scanning remains a popular and key feature in many of the kiosks we produce and is often a critical requirement in creating the optimum user journey in a kiosk. But what is document scanning and how does it work with a kiosk? This blog discusses some of the options available, covering budget friendly choices to more advanced scanning features.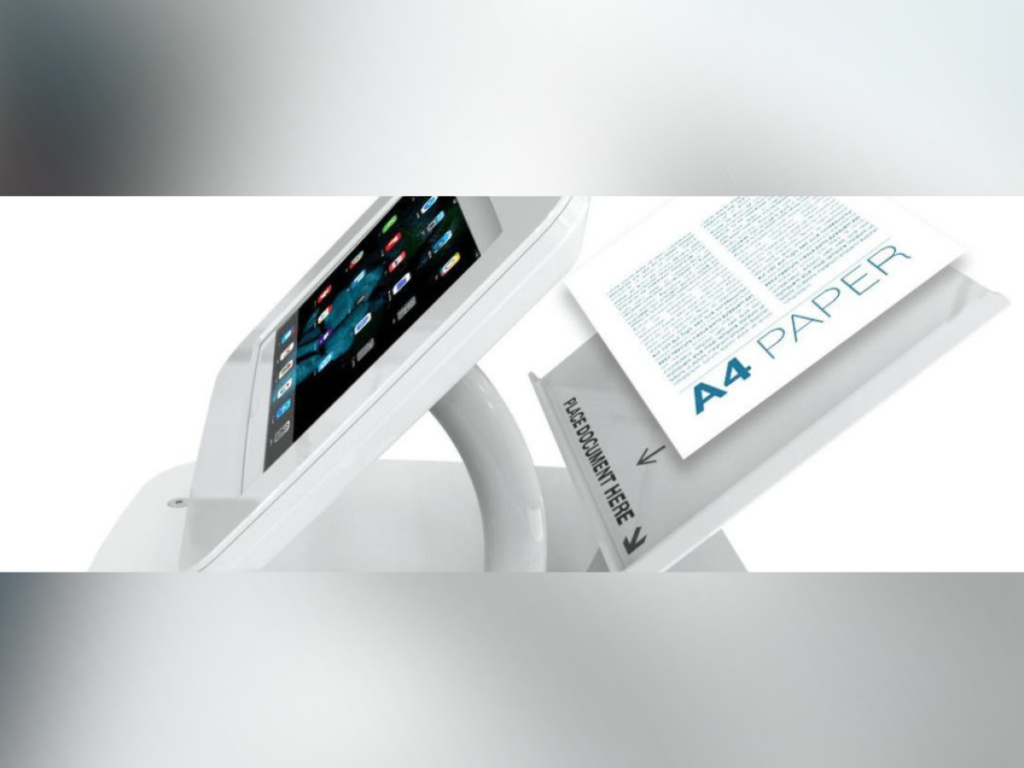 Barcode scanning technology is common in kiosks but as the technology has advanced it is possible to utilise this to scan barcodes on government issued IDs – e.g. driver's licences – and capture the document holder's personal information such as their full name, residential address and date of birth. It is even possible to immediately validate this information online in real time by parsing the data into the kiosk application and linked databases.
Tablet kiosks offer a versatile option for small screen kiosks and terminals. These devices are packed with technology that is underutilised in a kiosk. For example, the rear cameras built into most tablets are extremely powerful. Our modular architecture enables us to design the kiosk framework, so it makes use of a tablet's rear camera technology. By mounting a tray to place a document perfectly in-line with the rear camera, we are able to ensure that the camera is focused on the document to capture images and even parse the data from the document using OCR (Optical Character Recognition). We have successfully used this method to capture and read driver's licences, health insurance cards, passports, cheques and parking tickets. This feature is available across our Loxo 10 and Loxo 12 tablet enclosure based kiosks and offers a cost effective and user friendly solution that is ideal for many visitor management style applications.
Many forms of ID include multiple security and machine-readable features that need to be captured and validated. A particularly complex form of ID is that of a passport. Passports include PDF barcodes, NFC chips, UV print and photographs. All of these features can be read and authenticated using a full-page document scanner. Integrating a device such as this into a kiosk is the ideal way to speed up ID verification at security check points such as in airports and other mass transit locations. We're proud to have a proven track record of successfully integrating these devices to ensure an intuitive and ergonomic user experience.
Capturing full size A4 or US letter size documents in a kiosk is another critical requirement for some applications, such as bill payment or account set up. However, full size document scanners are large and expensive which can typically make them unsuitable for kiosk integration. Our solution to this is to replace the scanner with a camera that is positioned in a specially-designed scanning enclosure. This innovative solution allows users to place a document into the document tray and use the camera to capture an image of the document.
This article was originally published by ImageHolders.